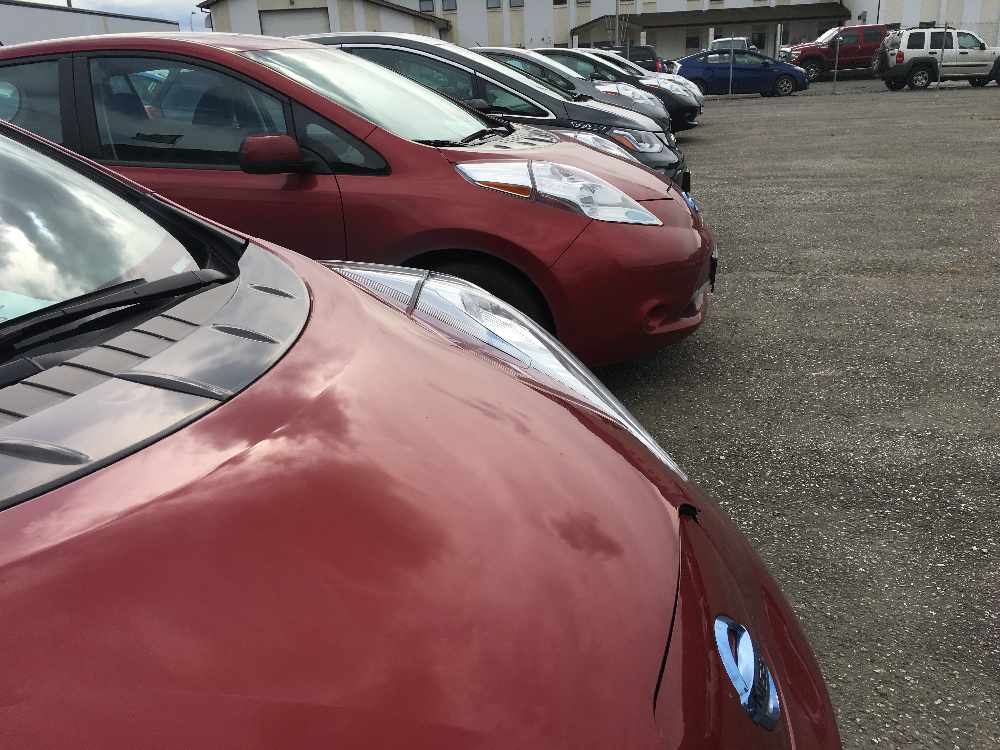 Juneau, AK (KINY) - Electric Vehicle owners in Juneau gathered downtown to share knowledge about electric transportation and show off their cars of various types.
Everything from a high-end Tesla to an older Zap Xebra were on display with most of them being Nissan Leaf models. Those gathered enjoyed a good meal, companionship, and some even would take folks out on test drives. Also on display was one of the only completely electric boats in the state, raising a lot of questions as local boaters discussed how advances on the road have transferred to the waters.
Vice Mayor Jerry Nankervis capped the event with a proclamation issued by the Mayor that dedicated the next week to electric transportation. The city will soon be seeing the first of what many hope to be of many electric busses, which could revolutionize public transportation and continue the support of a renewable energy-focused Juneau.
When it comes to infrastructure, Steve Benke with Renewable Juneau says that the costs and benefits fit Juneau really well, but there are always ways to further improve.
"I think there are a lot of opportunities in infrastructure like the city does have one electric bus on its way through a grant and they're ordering another one. Electric buses like that and electric vehicles generally are more expensive in their initial cost but right now they're lifecycle costs are looking like they're lower for the cost for fuel and maintenance over a decade or so. It's getting comparable and getting less and less over time."
Bob Varness, founder of Tongass Rain Electric Cruise and owner of the electrically-powered boat, says that running a boat with an electric motor is a completely different experience.
"It is a whole new experience. When you're on your way you can hear the water slapping along the hull. You can hear the birds chirping or can talk in a normal conversation and so it's a completely different experience over gas. Even when you're running gas at slow speeds you still have the rumble of the motor, but with these, there's a little whir going on in the background and that's about it."
Varness says that he is able to fish and travel anywhere he would want to go in Southeast, typically on a single charge. Factor in similar advantages seen by electric cars like low maintenance and energy costs and it really makes for an eye-opening approach to boating.
"I'm getting some data together that shows that this vessel cost about $0.13 a mile to operate with twin Motors. A vessel configured similarly with gas motors would be about a $1.60 per mile, so it's more than 10 times more cost-effective to operate this vessel."
"Every time I think of Ideal vessels to be electric it would be the ferries in Ketchikan that travel between the airport and town."
Varness is an authorized dealer of Torqeedo motors and also has smaller motors for smaller vessels and even kayaks. He says that he is dedicated to pursuing electric boating and hopes to see more vessels using electric rather than fuel.
One of the first electric vehicles to be used in Juneau is a small three-wheeled vehicle owned by Sarah McNair-Grove, a retired state employee.
"When we came to Alaska 1970s, we thought about building one ourselves and then we just never did. When we saw this production model, and it's just so cute, we thought why not?"
She now owns a more modern EV alongside her first and has been enjoying seeing how the technology evolves.
While convenience, cost, and low maintenance are all appealing points for many Juneau drivers, the added benefit of reducing fuel emissions is also something many enjoy being a part of. Benke says that being environmentally conscious is one of the main reasons he decided to drive an EV.
"That's probably the main reason. I put off getting one for quite a while. I've been involved in a lot of stuff with the city working on the city's greenhouse gas emission inventory and our Climate Action Plan and also with Renewable Juneau which advocates for clean energy and so that's kind of become more and more important to me."
"What I'm really interested in is finding concrete solutions where a person can do something, can save money in the long run, and do good for the planet."
For those looking for more information, Benke recommended researching online and getting in touch with local groups. Local drivers are typically well-versed about their vehicle as well.
"There is some good information online, there's a Nissan Leaf Owners Group Facebook page, and RenewableJuneau.com has information on all kinds of electric vehicles and stuff."