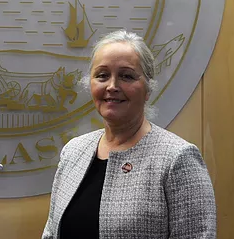 Edie Grunwald will be the next chair of the Alaska Parole Board.
Anchorage, Alaska (KINY) - The mother of one of Alaska's highest-profile homicide victims has been named as the chair of the Alaska Parole Board.
According to a news report from KTVA TV in Anchorage, Edie Grunwald, the mother of slain 16-year-old David Grunwald, said she was named to the position by Gov. Mike Dunleavy's administration Monday.
Grunwald said she knew she was going to be selected for a five-year term on the board, but being appointed as its chair was a surprise to her.
"I'm looking forward to bringing in some fresh ideas and perspectives," she said. "I think for some it might seem a bit odd to appoint me to a position like this, but most people who know me know that I'm pretty objective."
Grunwald said her military experience will help her in the position, with most of the five-member board already having time in law enforcement.
"The board decides where the meetings are," she said. "Most of the regions are represented in the state, and only one of the members needs to have a type of law enforcement background and experience."
A request for comment on the decision to the state Department of Corrections wasn't immediately answered Monday evening.
Two people have been found guilty of murder in David Grunwald's 2016 death: Erick Almandinger and Dominic Johnson. Two more suspects, Austin Barrett and Bradley Renfro, are still awaiting trial.
Edie Grunwald had run in the Republican primary for lieutenant governor on a platform of criminal justice reform. She was defeated by Anchorage state Sen. Kevin Meyer, who went on to become Dunleavy's successful running mate.