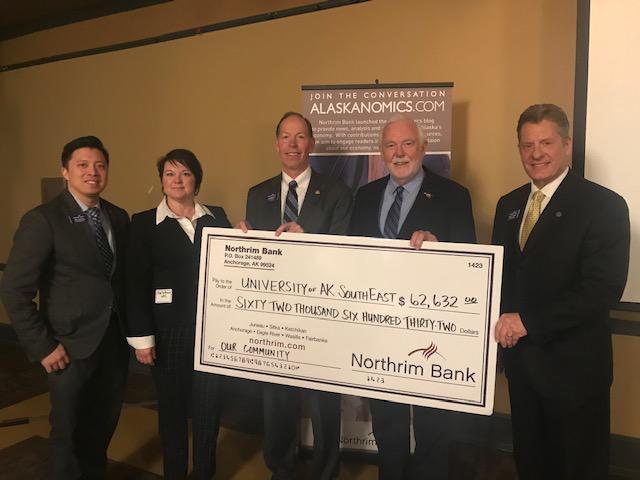 Northrim Officials present check to UAS (courtesy photo)
Juneau, Alaska (KINY) - Northrim Bank presented the 10th annual Alaska Economic Update at the Baranof Hotel today.
The Alaska economy could come out of a mild three-year recession this year. The Department of Labor has predicted job growth of 0.4%, about 1,400 jobs this year.
A key question in the economy is the state budget. Governor Mike Dunleavy has proposed large cuts in government spending and large increases in the permanent fund dividend.

State legislators have been reluctant to embrace the cuts and seem to prefer a more measured pace to budget cuts.

High points in the economy include our tourism industry with 1.3 million people expected to visit Juneau during the cruise ship season this year.
Another area of growth will be military spending in Anchorage and Fairbanks.

Mark Edwards, Executive Vice President at Northrim Bank, had a career in state government before taking a job in the banking industry.
He said there is a positive outlook for the future. The price of crude oil has gone up and down in the last 15 years with low prices at $37 per barrel during 2004 and $30 per barrel in January 2016 to a high of $134 per barrel in June 2008. Prices were over $100 between April 2011 and July 2014. There is optimism about increases in production with the potential opening of ANWAR to exploration.
National gross domestic product is expected to reach 2.9% this year.
Alaska's permanent fund is expected to grow by $5.7 billion in the next year. In the last five years, the average return on the fund reached 9%.
The legislature took a 5.25% draw from the fund to provide dividends and help fund state government last year. Under this formula, $2.9 billion would be available this year for dividends and government spending. The remaining $2.8 billion will go to grow the fund.
Alaska also has a lower foreclosure rate at 0.66%. This ranks Alaska as 20th best among the 50 states.
February 2019 showed the first increase in jobs in the past three years. Jobs were up by 400 in the past year. The biggest increases came in construction with 1,000 jobs and oil and gas with 500 jobs. Our per capita income ranked 10th in the nation at $59,687. That represents an increase of 4.4% in 2018. The Alaska real Gross state product reached $55 billion. It rose by 3.7% in the second quarter and 1% in the third quarter of 2018.
Alaska's population dropped by 1,608 people or 0.2%. The population was 736,239. Most of the decrease was due to more deaths than births in the state. Inflation was 3% in 2018. It had averaged 0.5% over the past three years. Home, energy and food prices increased in 2018.
Unemployment rates ended at 6.3% for 2018. It has fluctuated between 6.3% and 8% over the past 20 years.
There was an increase in residential building permits of 10.3 percent last year in Alaska. About 3% of Alaskans are 30 days behind on their mortgage payments. "We didn't have a problem with foreclosures and we didn't over build. The housing industry hung in there during the recession," he added.
Mouhcine Guettabi, with the Institute of Social and Economic Research for the University of Alaska Anchorage, spoke about the state of Alaska's economy, "We are forecasting growth in 2019, but the growth is so small, taking money out of the economy could outstrip that growth."
He predicted job growth in oil and gas and construction. Oil prices are expected to gradually increase over the next 10 years. The predicted price is $77 per barrel in 2028. He said there will be a slight increase in revenue for the state from oil and gas prices. Most of the increase will come from increased production. "It gives us a sober picture in what we can expect in terms of revenues," he added.
The Governor's budget has reduced agency allocations by $650 million. He would shift $519 million from local to state government and use $352 million in reserves.
Guettabi predicts the state government would lose 1,086 jobs for each $100 million cut from the state budget.
This includes government layoffs, broad-based state cuts, and reductions in spending in the economy.
There could also be a loss of $500 million in federal funding from Medicaid cuts.
Guettabi predicted the loss of 16,924 jobs from spending reductions in the state budget. He expects an increase of 9,777 short term jobs from increases in the PFD. That projects to a job loss of 7,146 for the state. He suggested there could be changes in household spending due to fiscal uncertainty.

The Department of Labor reported job growth in January and February. "Growth has been good, but construction is still almost 10 percent smaller than it was five years ago."

Natural resources and mining employment are just 73.1% of where it was five years ago. State government is at 89.4%. Both federal and local government jobs have been maintained with a 2% growth in local government jobs. The rate of job losses has slowed but the retail sector had a tough 2018. The retail sector could see some stabilization in 2019.

Alaska has lost close to 4% of the job force since 2015. Job growth is expected to be around 0.8% over the next few years.
Guettabi said he expects Juneau to grow at a smaller rate than the rest of the state mostly due to state government economic uncertainty. "The recovery is fragile and will be sensitive to changes in oil prices and state budget cuts," he concluded.
Nortrim presented a check for over $62,000 to the University of Alaska Southeast. It includes $5,000 for both the Ketchikan and Sitka campuses.
Chancellor Rick Caulfield said the money will go to the public administration and business programs at UAS.