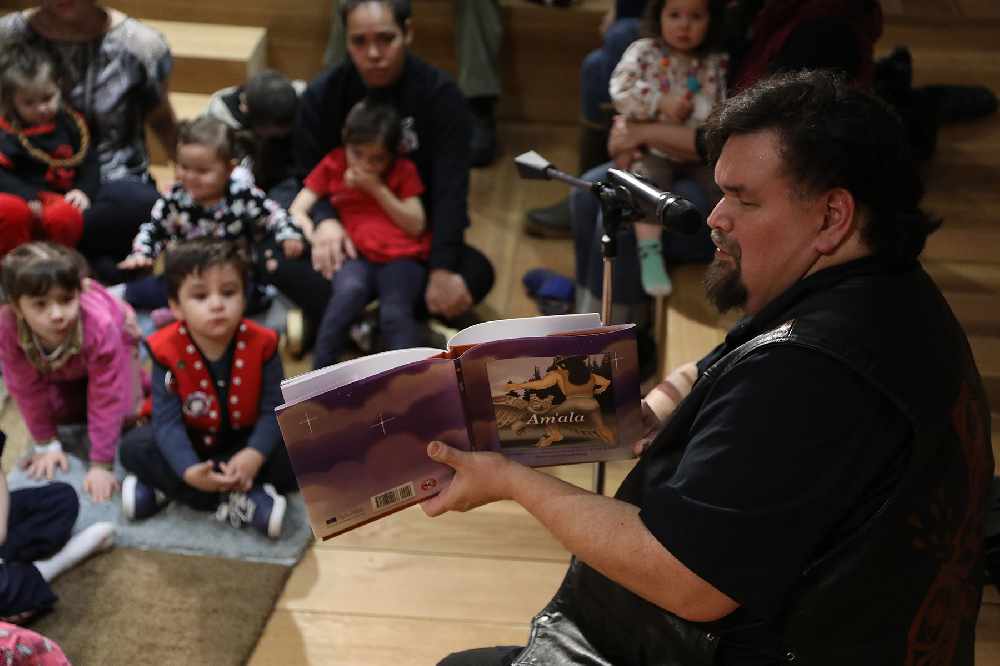 Alife Price reads from "Am'ala," a Baby Raven Reads publication, during a family event at the Walter Soboleff Building in January 2018. Photo by Brian Wallace.
Juneau, AK (KINY) - While the children's book publications are a big part of Baby Raven Reads, there is a huge program component that instills early reading skills. We talked to two women involved in the programming.
While most probably recognize the name Baby Raven Reads as associated with the various children's books that have been published under that name, many may not realize that the book series is only a part of the program. Baby Raven Reads is a Sealaska Heritage education program that targets Alaska Native children of five-years-old or younger in an effort to promote literacy, enhance attitudes towards reading, and teach some cultural values along the way. This is achieved through the publication of books, family events, mail out lessons, and now community outreach.
We sat down to talk about the program with Katrina Hotch, SHI Project Manager and Tess Giant, SHI Early Childhood Specialist. One of the main parts of the program that takes a lot of planning are the family events. Giant explained what a typical family event might look like.
"Typically, families will come in to the Sealaska Heritage Institute building and then we do a welcome song and lead families into the clan house, where there's storytelling or a book is read and then from there we do our lessons."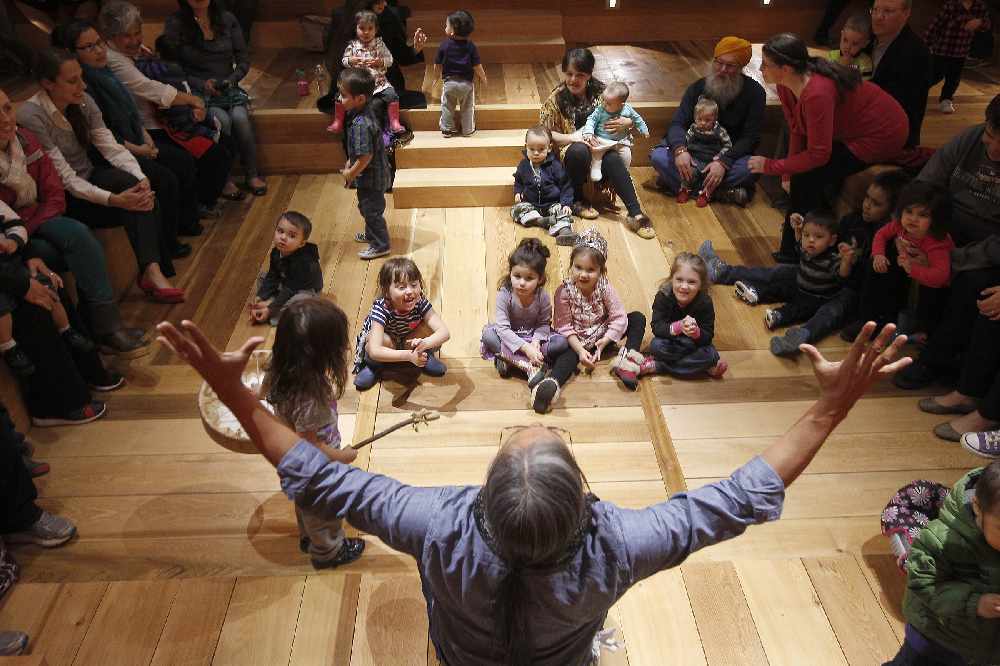 A Baby Raven Reads family event held at the Walter Soboleff Building in March 2015, Photo by Brian Wallace.
Hotch admitted that there is only so much that they hope to teach to these young children through these short events, but being exposed to culturally relevant literacy activities sets the foundation for success when entering schools and creates an opportunity for parents to teach early skills. The children will likely learn at least some Native language as well.
"Our heritage languages are a big draw for our families, but I think we try to keep reasonable expectations for what people could walk away with, because the family events are only two hours each and there are nine total in the year. There's only so much you can accomplish in that amount of time, but just creating the space for the families and for our culture can do a lot."
Giant explained why she thinks early literacy programs like Baby Raven Reads are so important to the development of a child's education.
"I think that building a strong foundation for literacy is often building strong relationships with people. Babies, infants, toddlers and preschoolers, for example, the more interactions that they have with their parents that build into language leads to more successful literacy in the future."
"I try to incorporate things like print awareness, having lots of words around, so that even babies are seeing words and building vocabulary. So a lot of activities, even if they don't seem like they're related to literacy, include really good vocabulary that's being heard or spoken or thought, so that builds into the literacy aspect."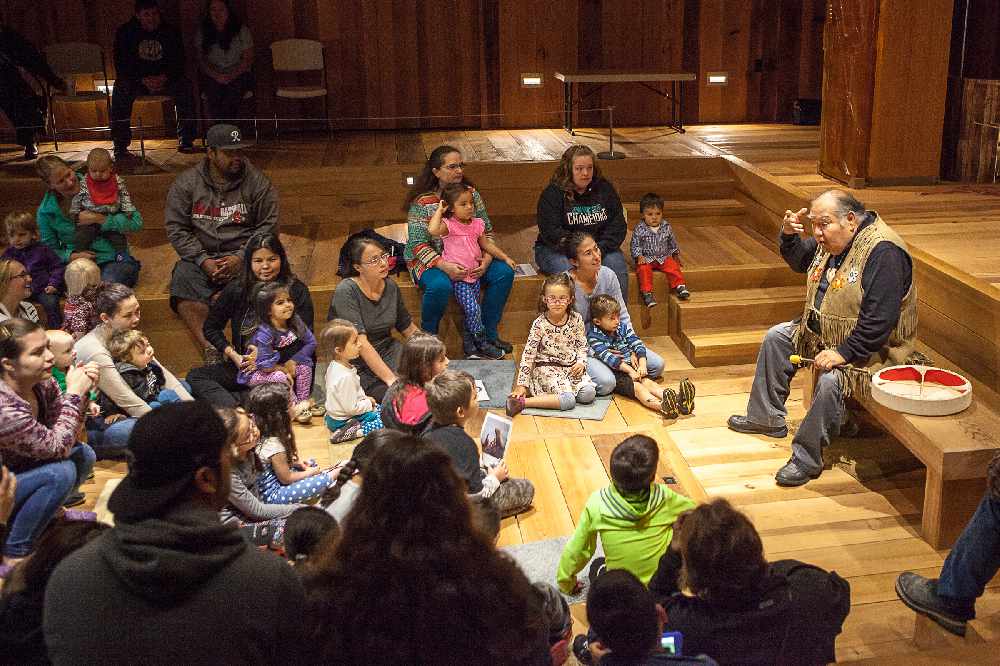 David Katzeek tells a story to Baby Raven families at the Walter Soboleff Building in September 2016. Photo by Nobu Koch.
Reaction to the program from parents has been positive. SHI sent us some comments from parents:
"(Family Nights) teach our children our culture and build a sense of community."
"The impact (of this program) is huge and it's a joy to watch."
"Great program. Teaching culture at a young age is vital to the life of the culture."
"Very awesome program. Feel very fortunate to be able to attend. Gunalchéesh."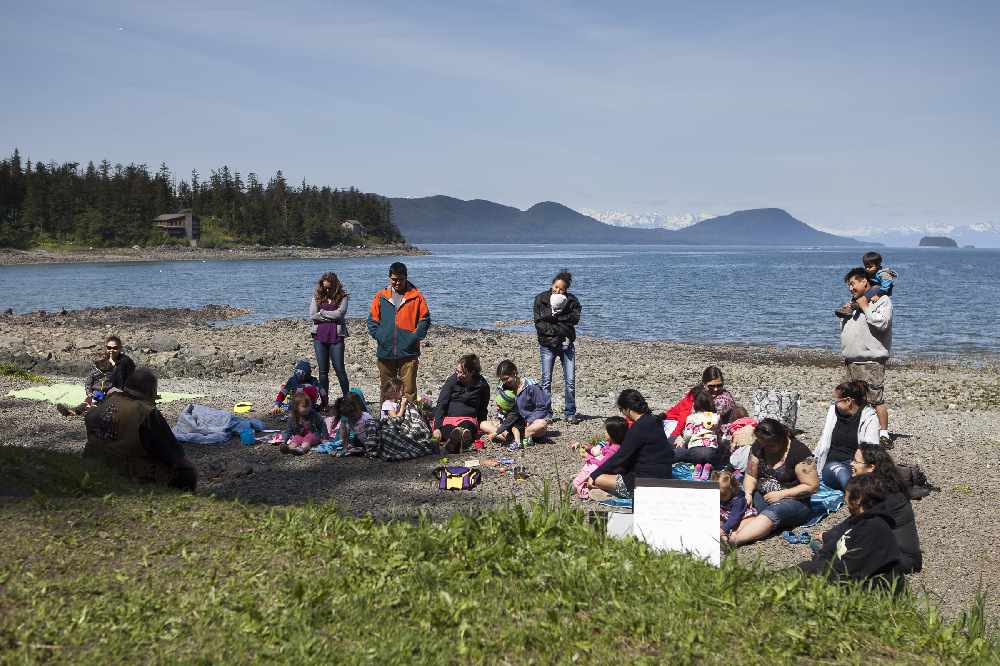 Baby Raven families gathered at Lena Beach for a family event in May 2017. Photo by Nobu Koch.
In the past few years, as Baby Raven Reads was developing, the primary audience was Native children in Juneau. With some new funding backing it, Baby Raven Reads is now be available in nine additional communities: Yakutat, Hoonah, Angoon, Petersburg, Sitka, Klawock, Wrangell, Saxman, and Craig. This is achieved through community liaisons, who help put on events, and send out materials for the children such as books.
Recently, one of the publications was singled out for an illustration award from the American Indian Library Association. Shanyaak'utlaax: Salmon Boy, illustrated by Tlingit artist Michaela Goade, won the 2018 American Indian Youth Literature Best Picture Book Award. In December of last year, Baby Raven Reads won the title of 2017 Library of Congress Literacy Awards Program Best Practice Honoree.
To say that there are a lot positive things coming out of this program is a bit of an understatement.
For more information on Baby Raven Reads, find them on the Sealaska Heritage Institute website.