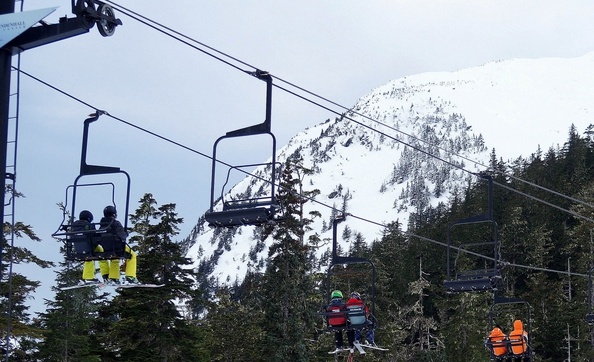 Lifts at Eaglecrest Ski Area.
Juneau, Alaska (KINY) - Starting Friday morning, March 20, Eaglecrest Ski Area will be suspending all operations in an effort to contain the spread coronavirus disease (COVID-19).
The locker rooms in Fish Creek Lodge will be accessible today and tomorrow (March 19 and 20) from 8:30 a.m. to 7:00 p.m. Please collect your belongings now or wait until later this spring or summer.
No more than 10 people will be allowed in the Fish Creek Lodge at a time.
Everyone is still welcome to enjoy the mountain. Community members are welcome to ski tour, sled, and play in the snow, but please continue to practice social distancing and stay at least six feet away from others. If you have been traveling recently, please follow the State of Alaska's guidance.
If you plan to ski tour, please refer to Eaglecrest's uphill traffic policy. Treat all terrain as backcountry terrain, travel with a partner, and know avalanche risks and safety measures before you go.
There will be no ski patrol rescue services or avalanche mitigation. At this time, Eaglecrest has no plans to groom alpine or Nordic ski trails.
Eaglecrest offices will be open to answer questions. Call (907) 790-2000 x214 or email info@skieaglecrest.com. This week's office hours are Thursday to Monday; 8:30 a.m. to 4:30 p.m.