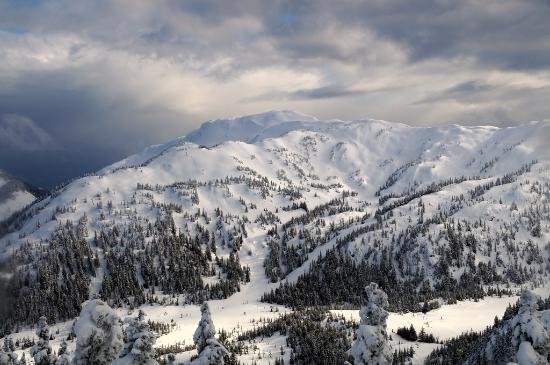 Eaglecrest Ski Area.
Juneau, Alaska (KINY) - At this time, Eaglecrest Ski Area remains open, though the facility has implemented changes in response to coronavirus disease (COVID-19).
Some seating has been removed in the Great Room in Fish Creek Lodge to create more distance between seating. In the dining area, grab-and-go food is being eliminated, but fresh food will still be served. The seating area in the Rental Shop has also been reduced.
Staff is on a 45-minute rotation of wiping down public facing hard surfaces in the lodges and ensuring that soap dispensers and hand sanitizer stations are adequately stocked.
All after-hours special events have been postponed until further notice.
As events unfold in the community, the public may see other changes at Eaglecrest designed to keep everyone healthy and safe.
Eaglecrest will not be adding extra days of operation during the school closure, but plan to open per its normal operating schedule 9 a.m. to 4 p.m. Thursday to Monday and daily over spring break (Mar. 19 – 30).
All Snow Sports School spring break programs will carry on as planned with as much of the gathering times being conducted outside in the open air as possible.
Public health is encouraging outdoor activities; take advantage of the great snowpack. As a reminder, wash your hands, cover your cough, give people lots of room, and stay home if you are sick.
For more information and local news on COVID-19, go to juneau.org/covid-19.