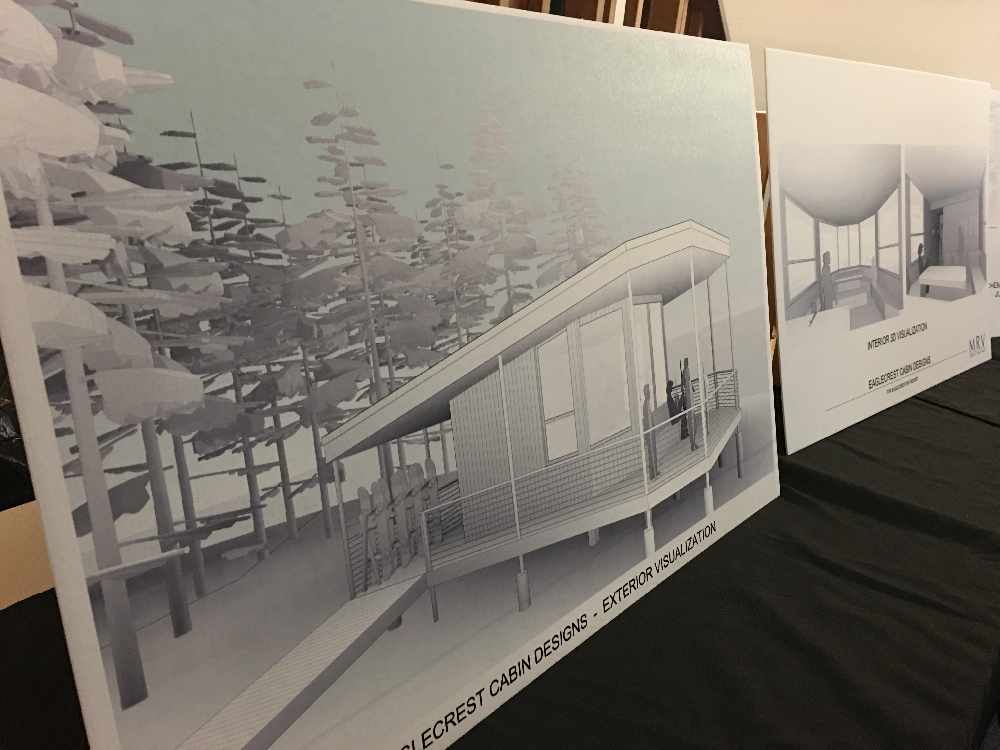 Juneau, AK (KINY) - The highly anticipated Eaglecrest cabins will likely soon be a reality with hopes to break ground later this summer.
A gathering was held on the mountain to reveal the design and show the area where it will be placed. Those involved with the project spoke a few words on how through the years, there has always been a want for more cabins in the beautiful vistas that are spread throughout Juneau and Douglas. With the help of the Juneau Community Foundation, the Eaglecrest Foundation, an early donation back in December, and reaching out to the parts of the community that were eager to donate time or money to the cause, the first cabin could be ready by the end of the year. It was announced during the presentation that about $95,000 of the needed $120,000 has already been raised. Manager Dave Scanlan and other speakers hope that this sparks future development of other cabins in the future.
The cabin design features large windows, wrapping benches, and a large deck. They have plans for it to be a public space through the day with the space being available for rent as well.
Zane Jones with MRV Architects is the architect who's design was chosen. He walked us through his thought process on trying to capture the views effectively.
"The Eaglecrest Board provided a really great outline of what the site had already and the view directions. We walked up to the site to take a look at it and really we didn't design anything fancy, we just kind of worked around those parameters and said, 'Hey, there's a great view. Let's capture that.' This is where we want to end our day and watch the sunset, so we created a space that helps accommodate that."
Debbie Hart spoke during the presentation and brought up a couple of prominent members of the Juneau ski community who lost their lives in an avalanche in 1999. While there are no concrete details in place, Hart hopes that there will be some sort of memorial to those two either on this cabin or a future cabin in a space they always talked about.
"Our hope is that this cabin will incite the excitement and desire for more cabins. When Matt Brakle passed away there was a lot of enthusiasm around a cabin near Cropley Lake. Maybe that might happen in the future, but if the cabin in the Hilda area becomes a memorial cabin, I think there are so many that would find a lot of touching moments there. We have a lot of people, Matt Brakle and Kat Winchell are only two of them, that have given their heart and soul to this area."
"Somehow capturing their spirits here would be pretty fantastic."
Hart says that either way, she knows that their spirits continue making Eaglecrest special.
"When I come up to Eaglecrest, which is quite often in both the summer and the winter, I have to say that Matt Brakle always comes to my mind. I hear his voice that are singing in the trees and I just know his spirit (and probably Kat's as well since they were such close friends) grace this very special place."
There are hopes for the cabin to be complete by the end of the year.
Those who would like to further support the project can visit the Juneau Community Foundation website.