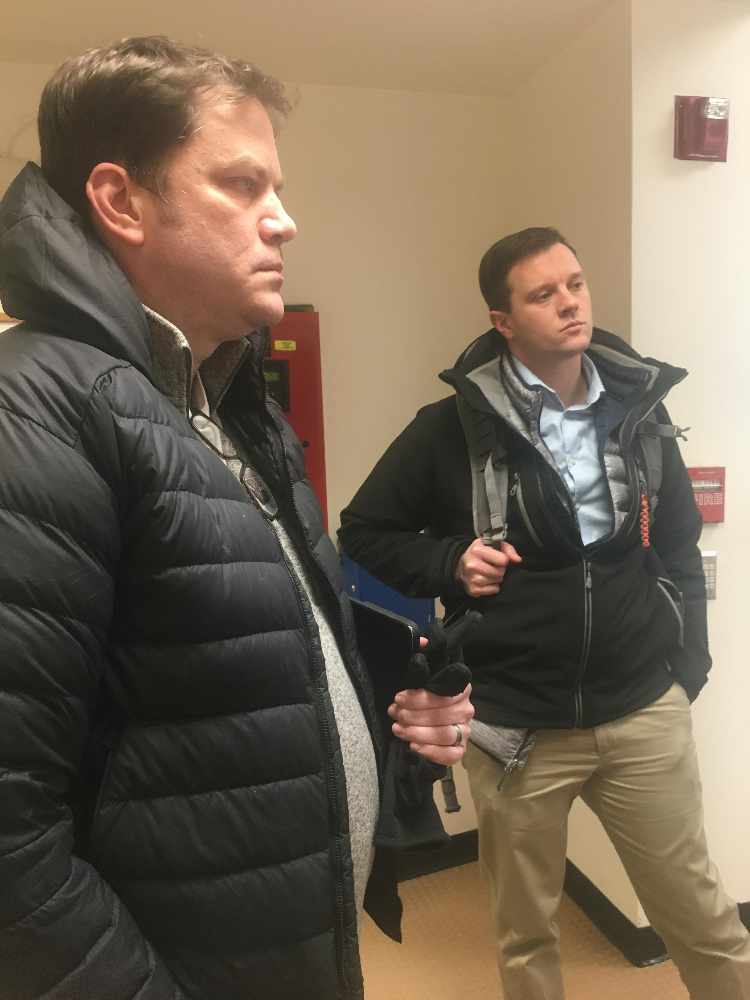 (L-R) James Brown and Chris Goins of the Alaska DOT answer questions at City Hall.
Juneau, Alaska (KINY) - Alaska Department of Transportation provided an update on the Yandukin Drive project to the Assembly Public Works and Facilities Committee.
According to the 2013 crash data, the intersection is the 8th highest for total crashes in Juneau. There have been no fatalities at the intersection since 2013. 46 percent of the crashes involve vehicles making left turns, over half of the accidents occur between November and January.
Mendenhall Loop and Egan had the highest amount of traffic crashes in the borough since 2013.
In 2013 the DOT provided additional lighting at the intersection.
DOT Engineer Jim Brown talked about some public comments they've received at recent focus groups.
Safety was the number one concern followed by costs and convenience. Options in the past included stoplights, an overpass, and extending Glacier Highway to McNugget.
Assembly members wanted to know when during the day the accidents occurred and the number of injuries.
Traffic flow and pedestrian and bicycle safety are other issues.
System connectivity is important because once there is a crash there, it limits traffic flow and access to other roads causing some major traffic delays. Egan is the only road that can bring traffic from downtown into the valley, Auke Bay and out the road.
The DOT said it is considering interim improvements and long-term improvements. Potential interim solutions include more gaps in traffic, reduction of conflicts among turning vehicles, improvements to visibility, better paint and stripes on the road, and an extension of the median barricade for those turning right off Egan. Another option is the reduction of speed limits through that area. The posted speed limit is 55 miles per hour. The average motorist is driving 62 miles per hour.
"We would have to depend on JPD to enforce that. The question is do you really have the staff to dedicate to that so that solution works?"
The DOT also has pursued long-term improvements that are cost-effective and meet the needs of the intersection. They include a traffic light, an interchange, and an overpass.
DOT officials note the road was designed for 70 miles per hour.
The DOT plans to hold more meetings to get more feedback. This includes two more focus group meetings and two additional open houses.
There is no budget for construction improvements. Once they come up with a plan they intend to seek state funding. After that is the purchase of right of way, design and permitting and then construction.