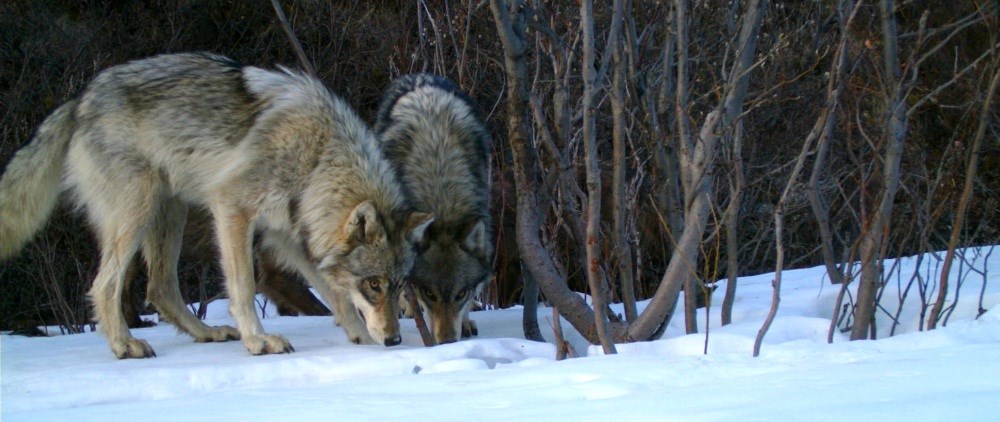 Juneau, AK (KINY) - The wolf harvest quota was announced by Alaska Fish & Game for the Prince of Wales Island area, GMU 2. We talked about wolf management with a Regional Supervisor of Fish & Game.
There will be 45 wolves harvested in the regulatory year 2018. Tom Schumacher, a regional supervisor with Fish & Game spoke to us about the wolf population there, the techniques they use, and what the public can to do to help the wolves.
Schumacher tells us that overall the wolves are healthy.
"We also monitor sighting, harvestings, things like that to look at abundance in Unit 2 because we had some indication that the population declined some years ago. We've been population estimates there through some conservative harvest actions over the last two years. We've been able to grow the population there to a higher number."
The department used to keep track of wolves through collars but now can get a good estimate based on a DNA mark-recapture technique. Their main method of gathering wolf DNA is through what are known as hair boards, which they've been doing since 2012.
"Hair boards are just a piece of plywood with some barbed wire on them with a scent lure that the wolves really like. Those are distributed through Prince of Wales Island and the north-central parts of the island. We can usually get DNA from hair samples after the wolves roll on the boards. Like your dog, they like to roll on something smelly, the barbed wire catches hair, and then from the hair follicles we can pull out DNA and from that,t we can identify individual wolves. By using a mark-recapture framework we can calculate a population estimate."
Local schools and organizations have also been able to help them expand their coverage.
"We've had some help with hair boards too. There's a citizen's science program that works in the schools and the schools will monitor about five hair board sites every year just as a demonstration project for the kids. For the last couple of years, the Hydaburg Cooperative Association received grant money that allowed them to set up a study area just south of ours, so we were able to expand our entire sample area."
Schumacher says that the best thing that the public can do is follow Fish & Game laws.
"Generally, the wolves take care of themselves; as long as they have something to eat, they do alright.
"As long as people are abiding by the Fish & Game rules for hunting and trapping than that is the primary way to help. People can also report wolf sightings, we do have a website for that."