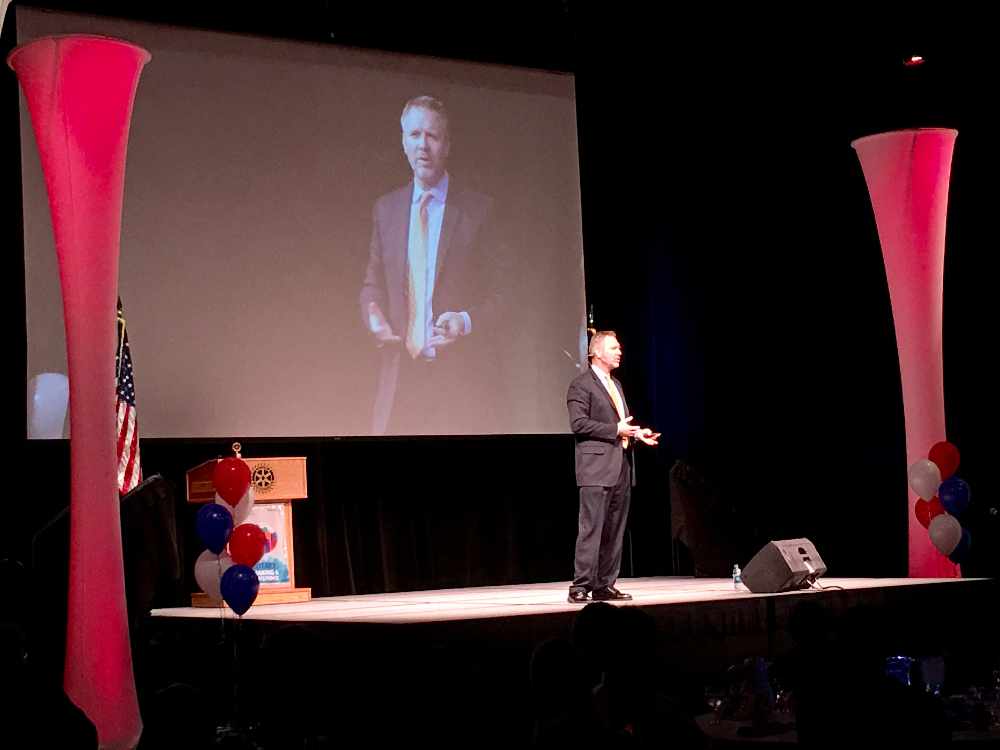 Juneau, AK (KINY) - The second of three Pillars of America events was held at Centennial Hall, this time featuring internet sensation the Rapping Dad.
Derek Clark started his life in a vacuum of violence. His pregnant mother had been beaten by his father. He was severely burned by his mother as a young child. He was abandoned while his other siblings stayed with his mother and he struggled to connect with the world while growing up in a foster home and getting into fights in school.
Through time and the perseverance of his adopted parents, Clark steadily overcome the incredible weight that was keeping him down. He learned patience with the chickens on his family's farm. He learned discipline through rigorous clarinet practices. Then as a teenager, he learned passion through hip hop and rapping.
As an adult he wanted to be a fun, fair, and firm father for his kids. One day he found the rap music on the radio to be too vulgar and his kids filmed his counter rap, which then spread through the internet like wildfire.
Now he travels the world spreading his message and encouraging people through speeches and social media. He calls himself a Hope Dealer.
We got a few moments to speak with Clark after his speech, asking first what it was like to be a part of inspirational events such as this one.
"We're all broken, so using that vulnerability empowers other people with hope."
Clark's story spread quickly, mostly due to it going viral online.
"Always be careful what you put out online," he said with a laugh, "It's amazing how people have resonated with that."
We asked if he had a message for anyone in a bad situation.
"Remember to never let your past infect your future, that your current situation isn't your final destination, your best days are still ahead of you, keep pushing forward!"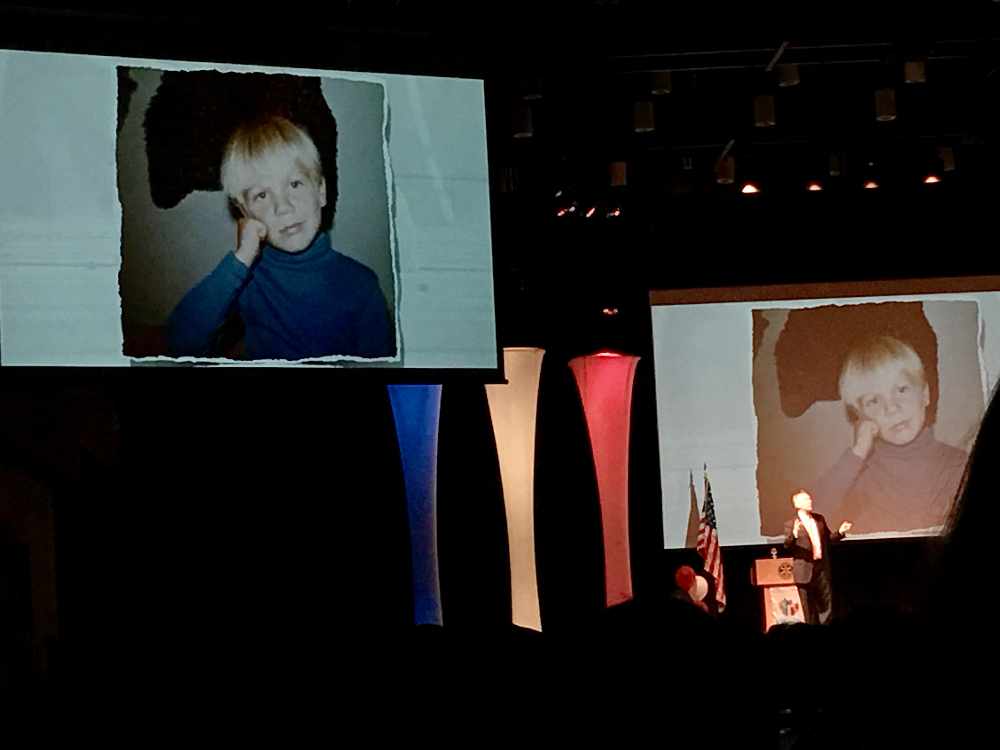 Mayor Ken Koelsch was also in attendance with his wife. We asked the Mayor what he thought about Juneau having events like the Pillars of America series.
"I think today's is presentation especially affected a lot of our youth. Anyone that's ever been in foster care can relate to this, anyone that's had problems that they can't overcome, now has an avenue today to think about. It's phenomenal how well this is done."
There was a story from the Todd Huston speech that the Mayor thought could have been a bit of a fib, but later confirmed it with Governor Walker.
"Last week, I was really dubious about when the speaker said that he had stopped and looked at a totem and was taking pictures of it and turned out that the car that pulled in behind him was the governor. So last week I went over to KTOO's presentation at the slam and had a chance to talk to the governor and check out the story and the story was true!"
Mayor Koelsch admits that Juneau is a small town.
"Mr. Huston who told the story happened be going through the slam and came over and verified with the governor that this is the same person that he met. Juneau is such a small town," he said with a chuckle.
All in all, the Pillars of America series continues to inspire those in attendance with their guests. A ton of effort is put into the events by the Juneau Glacier Valley Rotary Club and their sponsors and that effort appears to be paying off. Clark ended his speech with a rap that he wrote when he was 17-years-old.
Find the Rapping Dad on most social media sites, as well as his videos on YouTube.