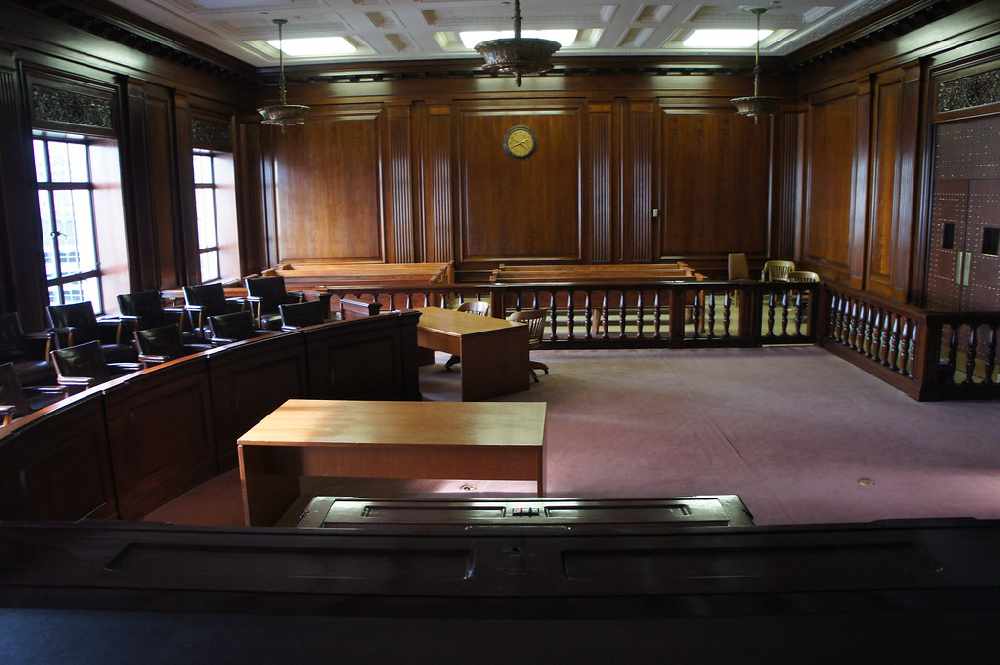 Juneau, Alaska (KINY) - A full docket of cases faced U.S. District Court Judge Timothy Burgess on Monday.
Arthur Castillo pleaded guilty to drug conspiracy charges. He was sentenced to 132 months in prison and five years of supervised release. A confidential informant helped make the case for authorities.
Authorities said they seized $200,000 worth of methamphetamines and $70,000 worth of heroin in Ketchikan. Authorities said they also seized an AR-15 assault rifle and $16,500 in cash.
The guideline sentence was between 188 and 235 months with a minimum mandatory of 10 years behind bars.
Prosecutor Jack Schmidt said Castillo was involved in a drug conspiracy with Alfonso Francisco Sandoval for at least three months in 2017. He alleged this was Mr. Castillo's business and Sandoval played a lesser role in the crime. He requested a 16-year prison sentence.
Schmidt said the confidential informant saw Mr. Castillo holding the AR-15 as he paid him money owed for illegal drugs.
"You have a defendant who has a large drug trafficking business. Ketchikan has had a number of drug-related issues for importation. Money is the main objective. People come from the lower 48 to Alaska because they can make money and don't have to risk a large amount of product in the worry of getting caught and getting severe sentences."
Schmidt said Castillo had prior arrests for drug distribution of marijuana. "He claims to be a recreational drug user. This conspiracy was a business. He was into multiple drugs in order to maximize profits he was making."
Schmidt said thefts and burglaries are commonplace as drug users find the money they need to support their habit. He said Castillo ran a business that basically brought poison into Ketchikan.
"The community is sick and tired of people bringing in large quantities of drugs that impact their kids and the community. The large amount was a significant risk to the community."
His co-defendant Armando Francisco Sandoval Jr. received 78 months in prison. He pleaded guilty to drug conspiracy.
Judge Burgess said this case was not to the level of the Columbia Cartel and Castillo was not a major drug lord. He questioned whether Castillo should be sentenced to six years over the minimum level.
Assistant Public Defender Jamie McGrady said 10 years was a long time and worse criminals have received 10 years. "He did not grow up in a great area, an area controlled by gangs. He dealt marijuana off and on, he has few convictions. He has managed to stay under the radar and stay out of trouble.'
McGrady said the chances of getting caught are larger in Ketchikan. "He hasn't hurt anyone. 121 months is enough. He won't get time off due to the gun enhancement, he has not done any significant jail time. We are going from zero to 121 months. I think he will get the message."
Burgess said there must be a message sent that the risk is greater than the reward.
Castillo said he regrets putting himself in this situation that affected his life, his family and Ketchikan. He said he has taken many classes in jail to continue his education. He asked for mercy because he has two children, ages six and nine. "It seems like my worst nightmare came through. I am not a bad person. My love for my family is immeasurable. They always ask me when am I coming home."
Judge Burgess said the impact the drugs have on a small community is serious. "I guarantee you if we were talking about somebody selling drugs to your kids, you would be the first person who would not be sympathetic. Somebody's children were using these drugs and they were destroying their lives."
He went on to state that he did not think the length of the sentence will have a deterrent on another person selling drugs.
"This was a calculated business decision. He made a lot of money bringing these drugs up from Fresno. There is a risk. In a smaller community you will stick out," he added.
Justin Seley, of Prince of Wales, had his case continued until September 9. He faces a charge of felon in possession of a firearm.
Mia Blair Berzanske pled guilty to drug-related charges and will be sentenced on July 31. She was accused of attempting to smuggle in methamphetamine through the Juneau International Airport last March.
A September 9 trial date has been set for accused murderer Kenneth Manzanares. He is accused of murdering his wife, Kristy on board the Emerald Princess on July 25, 2017. Attorneys expect the trial to last four weeks.
Kyle Erisman will appear in court May 24 for a change of plea hearing to a charge of embezzlement of funds by an officer or employee of a credit union.
Zachary Loewen, 29, of Sitka is scheduled to appear in court for a change of plea hearing on May 24. He faces charges of possession of an unregistered destructive device, unlawful making of a destructive device and felon in possession of an explosive. He allegedly made a pipe bomb and tried to ignite the bomb with a candlewick fuse in Sitka last October. Authorities said he had two prior felony convictions in the state of Washington.
James T. Williams, 68, of Skagway, is scheduled to change his plea and be sentenced July 1 for a 10 count indictment that charges him with smuggling walrus ivory from the United States, illegal sale of smuggled ivory and false labeling. The U.S. Fish and Wildlife Service alleges Williams sold carved walrus ivory that had been unlawfully transported into the country. They allege he made and submitted false records and accounts for the importation, transportation, and sale of carved walrus ivory tusks.
Annette Miller is scheduled for a change of plea hearing Wednesday in Anchorage. She is charged with drug conspiracy involving methamphetamines.
Six defendants accused of trafficking heroin and methamphetamines into Sitka from New Mexico and California all had recent court appearances. Christina Quintana is scheduled for a hearing on August 26. She allegedly shot a woman in both legs to collect a drug debt. Andrea Avalos, 23, received 12 years in prison and five years supervised release at a hearing today. Peter Krovina changed his plea and will be sentenced June 17. Aaron Didrickson, 30, of Sitka will be sentenced on September 30. Eric Morisky will be sentenced on October 3. Porter Treadway, 37, is scheduled for a criminal trial on September 9.
Ryan Neely was sentenced to 21 months in federal prison for allegedly trying to bring a loaded firearm through security at the Juneau International Airport. Schmidt said they also found $8,000 in cash and a small amount of illegal drugs on the suspect.