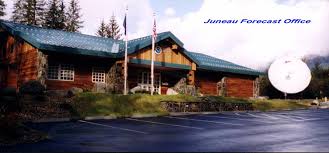 Juneau Forecast Office issues statistics for December weather in Juneau and Southeast Alaska
Juneau, Alaska (KINY) - As we all know it was a wet December in Juneau and Southeast Alaska.
That was formally confirmed by the Juneau Forecast Office of the National Weather Service in the synopsis of the weather for last month.
Meteorologist Kayla Tinker says widespread record rainfall paired with warmer than normal temperatures caused numerous landslides across Southeast Alaska.
On December 1, Juneau recorded the largest 24-hour rainfall recorded since records began in 1936 of 4.93 inches. The wet trend continued through the month and Juneau ended with its second wettest December on record with a total precipitation amount of 12.73 inches. The normal precipitation total for December in Juneau is 5.67 inches.
Ketchikan followed a similar pattern with 30.73 inches making it the fifth wettest December on record. Tinker said its the first time in a century that back to back months have exceeded 30 inches of precipitation in Ketchikan Sitka received a 24 hour record rainfall record of 1.59 inches on the first of the month. Yakutat was the only one of the four reporting stations to have below normal precipitation for the month of 11.09 inches.
Snowfall in Juneau during December was below the norm of 15 inches. Only 8.3 inches was recorded, according to Tinker.
The forecaster says temperatures were five degrees above normal in all four climate reporting stations.
The weather synopsis for the entirety of 2020 will be issued later this month.