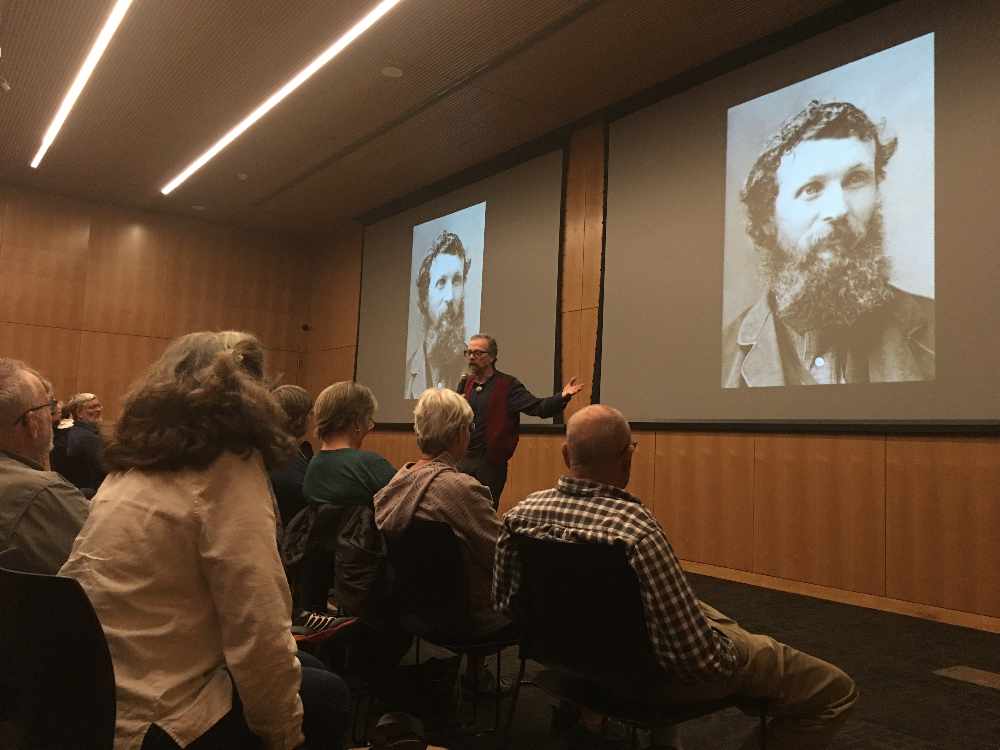 Juneau, AK (KINY) - Daniel Lee Henry, an author that wrote about the connection between an American explorer and the Native people of Southeast Alaska, was in Juneau to talk about his new book and some of the history in those pages.
He spoke of the strength of the Chilkat and Chilkoot people, and how until John Muir came into their lives, they had completely denied white settlement in all forms. This is all recounted through interviews he had with elders and decedents of those connected to Muir, enabling Henry to write "Across the Shaman's River."
Muir was known as a passionate man who loved glaciers and the natural world, one that was known to hike up mountains without so much as saying goodbye to traveling companions, only to return in the later hours of the night. Muir helped create the concept of wilderness in America in a sense that laws could be applied.
We were able to talk to Dan Henry about the life of John Muir and some of the elements of oratory that drew the author to writing the book after the presentation.
"The book is essentially about early white interactions with Tlingits in the northern Southeast region of Alaska. Traders, missionaries, military people, and ultimately how the northern part of Southeast Alaska, the Chilkats, remained closed to white settlement until John Muir came up there interacted with them, gave speeches, and befriended the people."
We then asked him to explain who John Muir was.
"I would say that he is a really curious person; he was curious about natural history and the way things went. He was a very passionate person. He helped found the Sierra Club and is probably the grandfather of American environmentalism."
"He blended his Old Testament reality and ways with nature preservation to present a passionate level."
As someone who is fascinated with debate and persuasion, Henry was drawn to John Muir.
"There are three most important elements of rhetoric: ethos, pathos, and logos. Logos being the facts, pathos being emotion, and probably the most important and most persuasive element is ethos or the character of the individual."
"Muir had a very strong character that was understood by the Tlingit people. When they saw him and heard him talk about brotherhood, they were convinced by his character, not so much by logic or even emotion, but by the force of his own character."
Henry believes that it was John Muir's character that led to respect from Native peoples.
"Likewise in Tlingit culture, people look at the person and their deeds, it's not titles, it's who you are, the deeds you do, and the ethical way that you are that really earns you respect. Respect isn't earned lightly."
"I think Muir was given respect by the Tlingits because he showed them his humanity and he also showed them that he had empathy for the Tlingit people."
Find more about Dan Henry's book on his website. Henry's talk was recorded and will soon be available on 360 North.