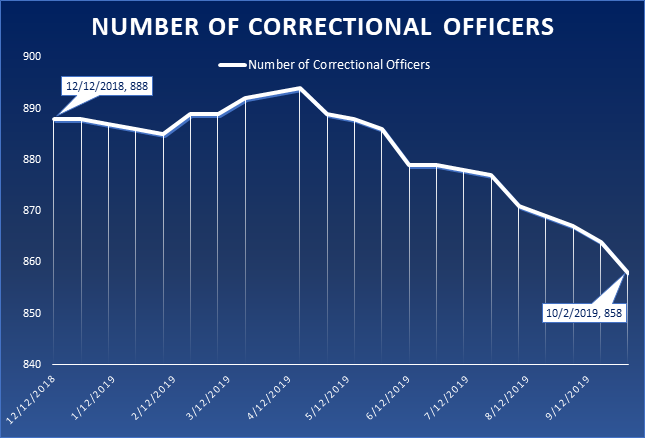 A graphic from the ACOA showing a decline in the number of correctional officers in Alaska.
Juneau, Alaska (KINY) - The Alaska Correctional Officers Association, an independent labor organization representing Alaska Correctional Officers statewide, is pushing back against a plan to ship inmates to the Lower 48.
In a press release sent to the media on Thursday, the union states that Gov. Mike Dunleavy and Commissioner of Correction Nancy Dahlstrom are endangering the public, correctional officers, and inmates by "manufacturing a staffing crisis in order to justify their ideological desire to privatize Corrections."
The union added that they believe the governor's decision to send incarcerated Alaskans out-of-state to private prisons jeopardizes the safety of Alaskans.
"When inmates, previously warehoused in private prisons, returned to Alaska, it resulted in more crime and Alaska victims," the release states. "Three of Alaska's worst gangs were created when inmates were housed out of state: Low Life's, Native Brotherhood, and 1488s. Lower 48 private prisons created these gangs, but they are Alaska's problem now."
Additionally, the union said that the Alaska Legislature designated funds to reopen Palmer Correctional Center this year and a ramped-up approach to opening Palmer Correctional Center can happen much sooner than the next 12 months.
"There is no benefit to utilizing out-of-state private facilities when there is an empty and readily available facility here in Alaska.
"[Private Prisons] simply do not provide the same level of correctional services, programs, and resources; they do not save substantially on costs; and as noted in a recent report by the Department's Office of Inspector General, they do not maintain the same level of safety and security.
"Alaskan voters and previous Administrations decided that private prisons were not in the best interest of the State or incarcerated Alaskans. In 2006, when the Alaska State Legislature passed Senate Bill 65 which built the Goose Creek Correctional Center and ended the use of out-of-state private prisons, it did so because it made more financial sense, reduced recidivism, and was safer for all Alaskan.
"There is no reason for the State to send millions of dollars out of state in order to put Alaskans in jeopardy by sending incarcerated Alaskans to out-of-state private prisons that are more dangerous and run counter to the public safety goals set by the State of Alaska."
The administration tried to send inmates out of state earlier this year, but the proposal was rejected by the Alaska Legislature.
"This new excuse as to why the Administration needs to send inmates outside is one of its own creation. The DOC has not prioritized hiring or retaining Correctional Officers statewide, which has led to a Dunleavy Administration-created crisis. The DOC could start a hiring campaign tomorrow and, at minimum partially, open the Palmer Correctional Center within a couple of months.
"There are 30 fewer Correctional Officers protecting the public today than when Governor Dunleavy took office, and even then, the Officer numbers were critically low. The remedy is simple - prioritize the recruitment and retention of Officers to protect the public."