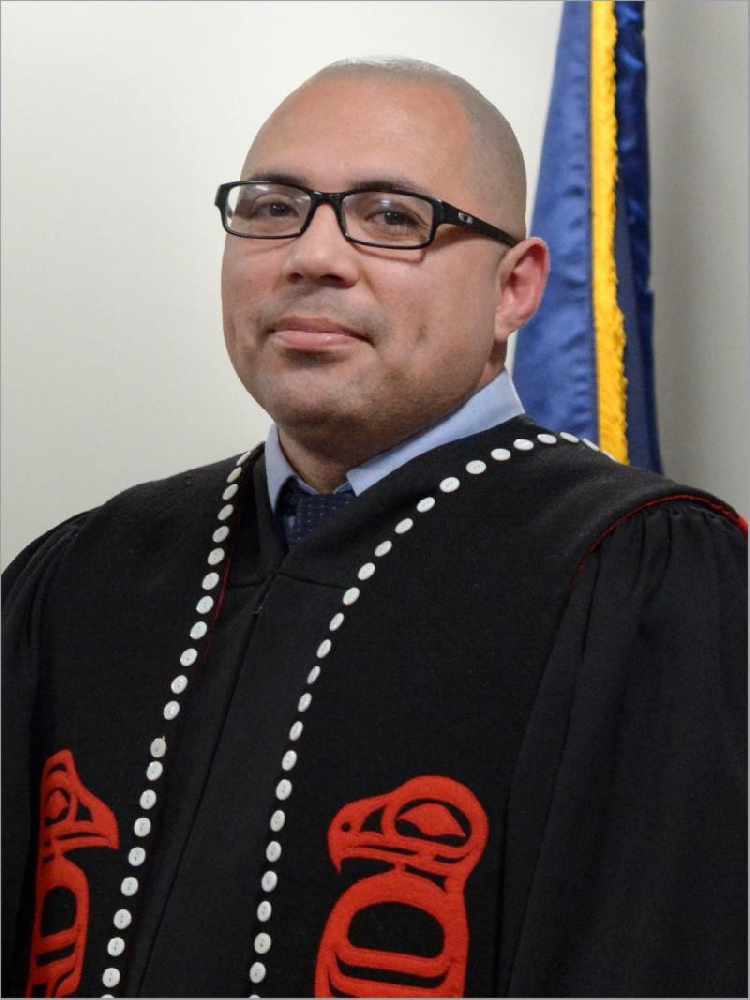 Magistrate Trinidad Contreras.
Juneau, Alaska (KINY) - As the Tribal Court Magistrate, he will hear and decide judicial matters and enter judgments.
Central Council of Tlingit and Haida Indian Tribes of Alaska has announced Trinidad Contreras has joined the Tribal Court as Magistrate. He took an oath of office during a swearing in ceremony conducted by President Richard (Chalyee Éesh) Peterson on Dec. 17 in the Tribal Court chambers.
As the Tribal Court Magistrate, Contreras will hear and decide judicial matters and enter judgments and orders on paternity, child support and enforcement of child support orders, as well as other matters relating to paternity and child support.
"I am very pleased to have Trinidad join our Tribal Court," President Peterson said. "Through the administration of justice for tribal citizens and as a leader in the advancement of tribal justice statewide, I am confident in Trinidad's leadership that will build upon, protect and promote the credibility of Tlingit & Haida's Tribal Court system."
Contreras served nearly three years as Assistant Municipal Attorney for the City and Borough of Juneau's Law Department Civil Section. He also worked as a Judicial Law Clerk for the Alaska State Court System under the Honorable Michael MacDonald in Fairbanks, Alaska and completed legal externships with the Pascua Yaqui National Public Defender's Office in Tucson, Arizona, U.S. Department of Justice Office of Tribal Justice in Washington, DC., U.S. Federal District Court, District of Arizona in Tucson, Arizona, and National Indian Gaming Association in Washington, D.C.
Contreras received his Master's in Law from the University of California, Los Angeles, School of Law; Master's degree and Juris Doctorate in Federal Indian Law and Policy from the University of Arizona, College of Law; and Bachelor's degree from University of California, Berkeley in Native American studies as well as molecular and cellular biology. Contreras is a current member of the Juneau Bar Association and National Native American Bar Association.
"I am excited to contribute to the great work of Tlingit & Haida's Tribal Court," said Contreras. "It is fortuitous that I am able to join the judicial branch at a time of growth and expansion. This is an opportunity I could not pass up."
Contreras is a citizen of the Iipay Nation of Santa Ysabel and is a descendant of the Pala Band of Mission Indians. He was recently adopted into the Teikweidi clan and given the name Ku'jein. He is married to Madeline Soboleff Levy and is a father to three children.
Contreras' first day on the bench will be Dec. 19 for a public hearing on child support.