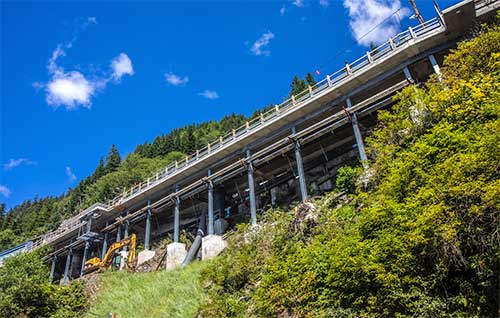 The Ketchikan Water Street Trestle.
Ketchikan, Alaska (KINY) - State and city dignitaries joined residents of Ketchikan's Water Street Friday to celebrate the completion of the street's reconstruction.
According to Sitnews.com, the trestle reconstruction was a technically challenging project perched on a steep cliff in a historical district and a dense, actively-used and space-constrained residential area.
City of Ketchikan Mayor Bob Sivertsen and Public Works Director Mark Hilson, Alaska State Senator Bert Stedman and Alaska State Representative Dan Ortiz joined the Department of Transportation & Public Facilities Commissioner John MacKinnon in the ceremony.
DOT&PF design and construction partners HDR, R&M Ketchikan, R&M Consultants, and Dawson Construction also joined the celebration.
Dawson completed the $25 million project in just under three years.
The event began with Ketchikan's Boy Scout Troop 4 performing the color guard. State and local officials remarked on the partnerships required for successful project completion and the complexity of the project.
After local youth cut a ribbon to ceremonially open the street to traffic, the City of Ketchikan's Fire Department drove a truck across the trestle.
The bridge has been a high priority for reconstruction for many years. The old Water Street Trestle 2 was built in 1979 and was nearing the end of its useful lifespan. The trestle was not rated for heavy loads like a fire engine and the guardrail was aged.