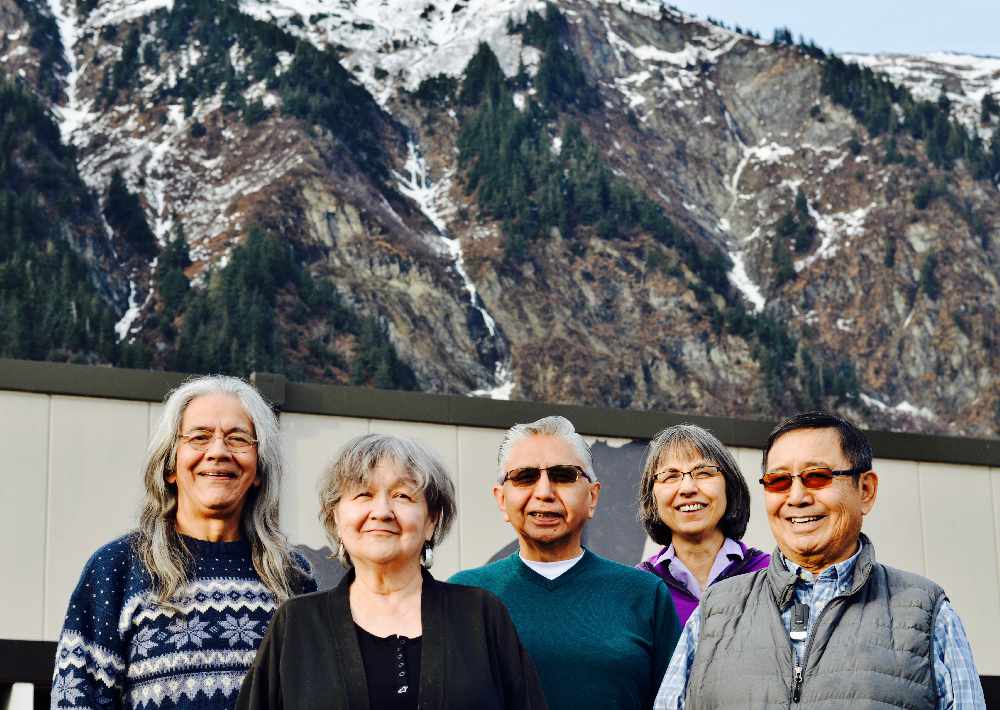 From left to right - Walter Soboleff Jr, Ernestine Sankalaaxt Hayes, Khinkaduneek Paul Marks, Lillian Petershoare, Marcelo Quinto. Photo taken by Ryan Conarro.
Juneau, AK (KINY) - A community discussion was held on Monday night as a follow up to the Aan Yátx'u Sáani: Noble People of the Land production that was put on as a part of The Juneau Histories Theater Project by the Ping Chong + Company as well as the Juneau Arts & Humanities Council.
Members of the community told their personal stories that were weaved into a piece for the theater. This community conversation was created as an extension of that, allowing people to discuss elements of the show, as well as dive into broader topics brought up like ways to preserve the actual history of a location and how to battle adversity and racism.
News of the North was there to participate and talked to a couple of the organizers of the show afterwards.
Ryan Conarro who is the co-director and co-writer of the production talked about the main elements of the Noble People of the Land production
"This project is all about making space for and kind of amplifying the voices of real people telling their real stories. That is central to the project, to the intentions behind it, and then the decisions that were made on how to do it, always answer to that question. How do we honor people and make space for them?"
He went on to talk about the major goals that have carried on into other projects that Ping Chong + Company have worked on.
"The company has this series of works, which are all about working in various communities around the country and a few have been international as well, sort of saying like what are some of the voices that might not often be heard on a sort of literal or figurative platforms like this? Let's move those towards the center as much as we can?"
Miciana Hutcherson, who took on whatever task was needed, talked about the value in listening from others.
"One of the great traditions of the Tlingit people is that we have an oral history, meaning that we passed down all of our stories by telling them over and over again. There's a line from the production that says, 'make sure you tell that story right' and to me that's a big part of this project and a part of even the dialogue tonight is that we take the time to listen to each other and to carry our stories forward. What you do by telling the story the way you heard it is that you give value to what that person was feeling and you pass it on to somebody else to share that knowledge."
She continued on how listening can also lead to personal growth.
"To me that was something that was so meaningful about even listening to people tonight and throughout the production is that you got to learn about everyone so much more, but you also got to learn about yourself through their stories, because of all the ways that we can relate to each other and that's especially important in a small community like Juneau."
"We all have commonalities."
The production will eventually be available online. Further information can be found on the official website. Recordings of some of the research interviews are also available on that site.