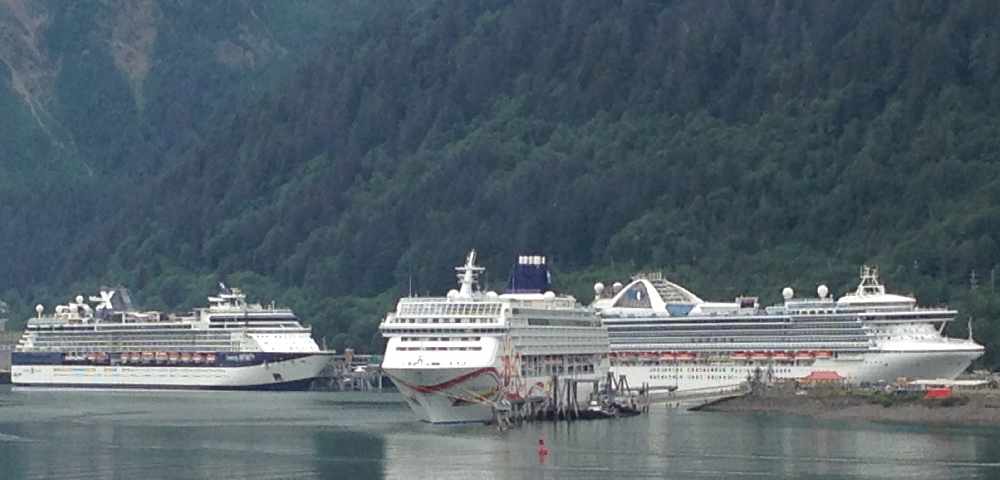 Juneau, Alaska (KINY) - Tourism best management practices and the upcoming cruise ship season were the topics of discussion at a community meeting at the Elizabeth Peratrovich Hall.
A number of issues dealing with the coming season and how partner businesses that voluntarily take part in the program were discussed. They included electrification of docks, air and water quality, downtown transportation and foot traffic, crowding and impacts, and business growth.
Sierra Gardaire was one of the facilitators. She explained the voluntary regulations came together when Juneau saw the first big increase in cruise ship capacity. A few founding businesses came together to create rules based on community input to mitigate impacts the industry creates.
"It has more than 90 regulations and over 80 businesses involved. It is a great thing. I work for Gastineau Guiding. The feedback from whale watchers helps us create rules that we all follow. They have all come from citizen feedback."
An issue that came up recently was providing electric service to the docks.
Executive Director of the Juneau Economic Development Council Brian Holst said the conversation about the impacts has been ongoing, "Tonight we engaged citizens of Juneau with topics of tourism growth. It's a conversation that has gone on for many years. We understand issues of concern and some of the opportunities available to tourism."
Is there a capacity limit for Juneau?
"That question was asked 20 years ago and we have done well since then," Holst remarked. "How much do we as local enjoy Juneau? There is give and take. There are benefits from tourism coming here and there are things that we give up. That is the big question."
1.3 million visitors are expected to come to Juneau this year. That number is expected to increase for the next several years. A recent study found the average cruise ship passenger spends $167 in Juneau.
Holst said residents attitude about tourism is important because it affects the visitor experience.
The movement of vehicles and pedestrians and the challenges that come from transportation were also on the table. "The less we have the local support, the harder it is to grow a business. We want local support. We want to do what we have done for the past 23 years to mitigate the impacts in a way that makes sense and allows the industry to be a positive force and impact on the community."
Liz Perry with Travel Juneau said they have a vested interest in all visitors having a positive experience in Juneau.
"Our independent visitors spend more money here than cruise ship passengers. We want everyone to have a great time in Juneau and the community is comfortable with things that are happening in the visitor industry."
Port Director Carl Uchytil praised the TBMP and how it improves the community. The most recent economic report showed tourism is the number one private sector impact on the Juneau economy. "It is important for the community to embrace tourism and do it in a thoughtful manner."