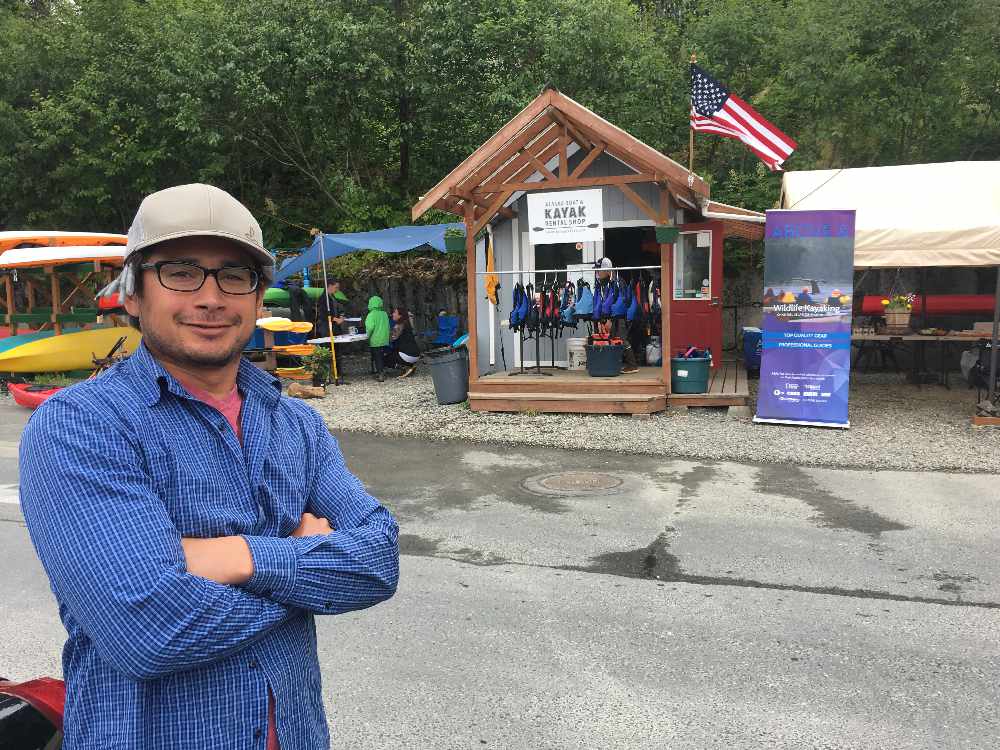 Alex Beebe-Giudice, the Kayak Operations Manager, in front of the rental shop. Photo by Alex McC.
Juneau, AK (KINY) - The Alaska Boat & Kayak Rental Shop held a Community Appreciation Day to give Juneau citizens the opportunity to try out kayaking or paddle boarding. 
People were given a life jacket, instructed on safety, and then were let loose to explore the harbor area with a guide. Food and drink was available and a paddle board set was raffled off.
Our guide Wade taught us all about how to paddle and balance, resulting in a relaxing cruise through the waters with the people of the docks bustling about and the mountains in the background. Luckily neither us, nor our paddle board teammate fell in at any point, although there were definitely some wobbly moments.
We chatted with Alex Beebe-Giudice, the Kayak Operations Manager, who helped put on the event.
"Auke Bay is a wonderful place, we have lots of people that live in the neighborhood walk by every day. It's a busy harbor with liveaboards, recreational boaters, it's a community."
"We get lots of business from local Juneauites and this is an opportunity for people who have never kayaked or paddle boarded before to have a nice introduction, get some professional instruction from our awesome guides and learn things the right way the first time."
He also had some recommendations when it came to clothing while out on the water.
"In the summertime, paddling here in Auke Bay, cotton is your worst enemy when you're out on the water. Non-cotton, synthetic layers are the best way to go. We recommend polypro or wool, some sort of long underwear base layer, then with some synthetic pants and top as well. Spray skirts will cover your armpits down and your PFD (personal flotation device) as well but it is Juneau, so it's a great idea to have a rain jacket or a light waterproof shell."
The Alaska Boat & Kayak Rental Shop is open from April to September and have several options for those looking to rent a vessel to enjoy Juneau's beautiful waters. Either rent for the evening, a full-day, whatever fits.
Find more information on their website.