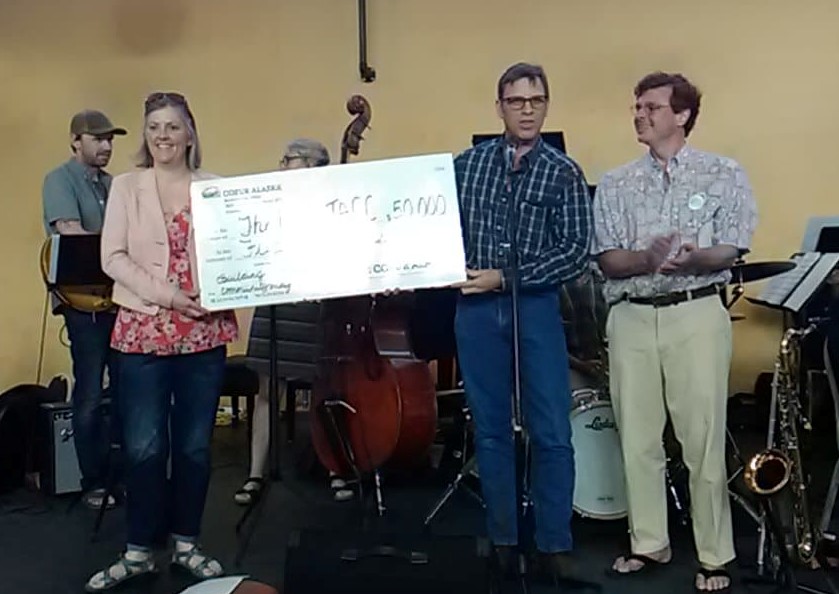 Ruth Kostik (left) and Ben Brown (right) receive a $50,000 check from Mark Kiessling, General Manager for Coeur Alaska Kensington Mine.
Juneau, Alaska (KINY) - Juneau's local arts agency and the new Juneau Arts & Culture Center partnership received a major donation from Coeur Alaska on Friday.
The donation came in the form of a $50,000 matching amount to the ongoing capital campaign to build the New JACC.
Coeur Alaska, owner and operator of the Kensington Mine, donated the $50,000 to the campaign to be used as a matching incentive to encourage other donors to join the fundraising effort.
According to Ben Brown of the Juneau Arts & Humanities Council, more than 100 donors made major contributions and substantial grants have also been received from an array of businesses and foundations.
Mark Kiessling, General Manager for Coeur Alaska Kensington Mine, said, "We at Coeur Alaska really value the work of the Juneau Arts & Humanities Council in helping maintain the high quality of life we all enjoy in Juneau. From the educational programs for youth, to providing a venue for the performing arts, the JAHC does amazing things, and we are excited to help build a new dedicated facility."