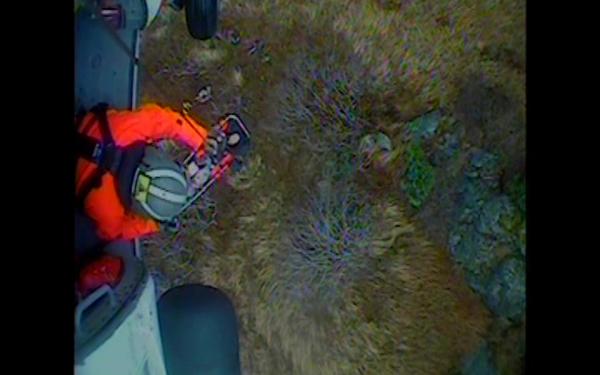 Juneau, AK (KINY) - The Coast Guard has shared footage of a rescue and hoist of a man who was mauled by a bear on Afognak Island, which is just north of Kodiak Island.
A helicopter crew from Air Station Kodiak were able to successfully lift the 31-year-old man last Friday. The man had sustained multiple lacerations to his leg. He was taken to the Air Station Kodiak where EMS was waiting.
Watchstanders at the Juneau command center got the call via a satellite phone from a member of the hiking group in the afternoon. The Juneau station then contacted the Sector Anchorage command center, who assumed the role of search and rescue mission coordinators.
Find a video from the helicopter of the lift on our website.
"The Coast Guard in Alaska is best known for maritime search and rescue," said Coast Guard Ens. Scott Peters, Sector Anchorage command duty officer for the case. "But our helicopter crews often conduct inland search and rescue operations as well. Urgent situations like today require swift response from properly trained people, with assets capable of responding to persons in distress. Today that was us."