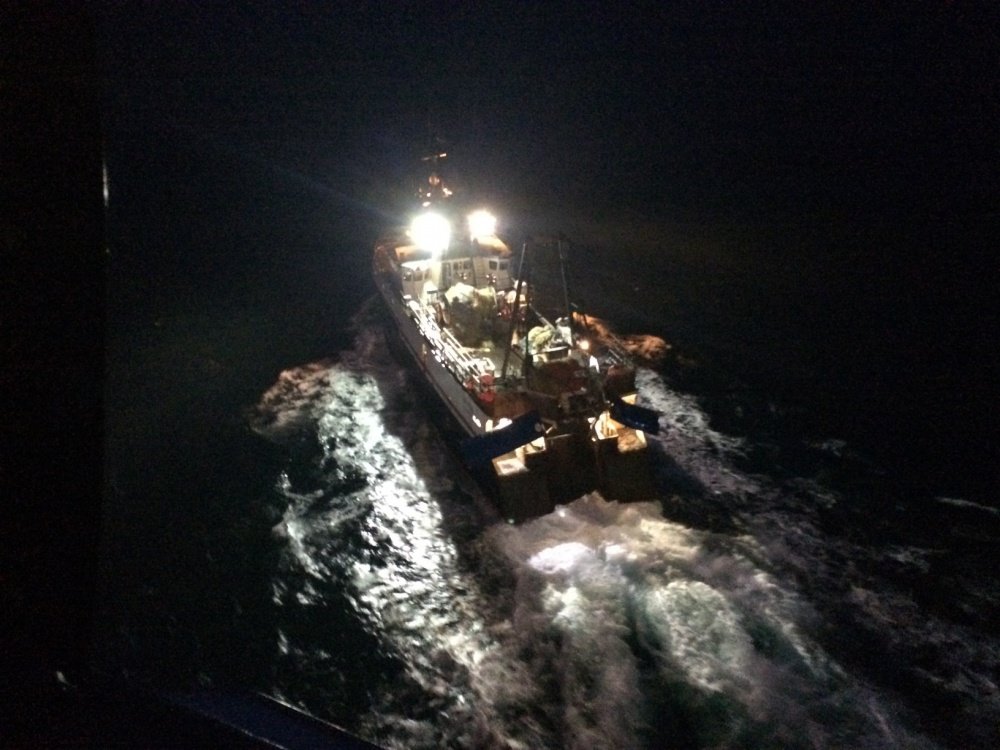 U.S. Coast Guard courtesy photo
Cold Bay, Alaska, (KINY) -Air Station Kodiak sent an MH-60 Dolphin helicopter to medevac a man from the fishing vessel Ocean Peace.
The rescue also included the Coast Guard Cutter, John Midgett. It occurred about 115 miles north of Cold Bay.
Coast Guard watchstanders in Juneau received notification from Discovery Health Force Partners that a 24-year-old crew member displayed symptoms of appendicitis.
The helicopter crew was already in Cold Bay due to a patient transport on Monday They quickly responded and placed the man in the care of an aircrew contracted by Discovery Health for transport to Anchorage.
"This is the second case in two days that the crew aboard Cutter John Midgett and the helicopter crew with them responded in the Bering Sea," said Lt. Cmdr. Orion Bloom, command center chief for Tuesday's medevac. "Cutters with helicopters in the Bering Sea are essential due to the vast distances they travel to complete a mission."
On-scene conditions at the time of the hoist included 6-foot seas and 12-mph winds.
A Coast Guard Air Station Kodiak MH-65 Dolphin helicopter aircrew forward deployed aboard the Coast Guard Cutter John Midgett medevaced a 56-year-old man from the fishing vessel Vaerdal 70 miles north of Cold Bay, Alaska on Monday.. The man was suffering from chest pains, and he was safely transferred to awaiting emergency medical services in Cold Bay