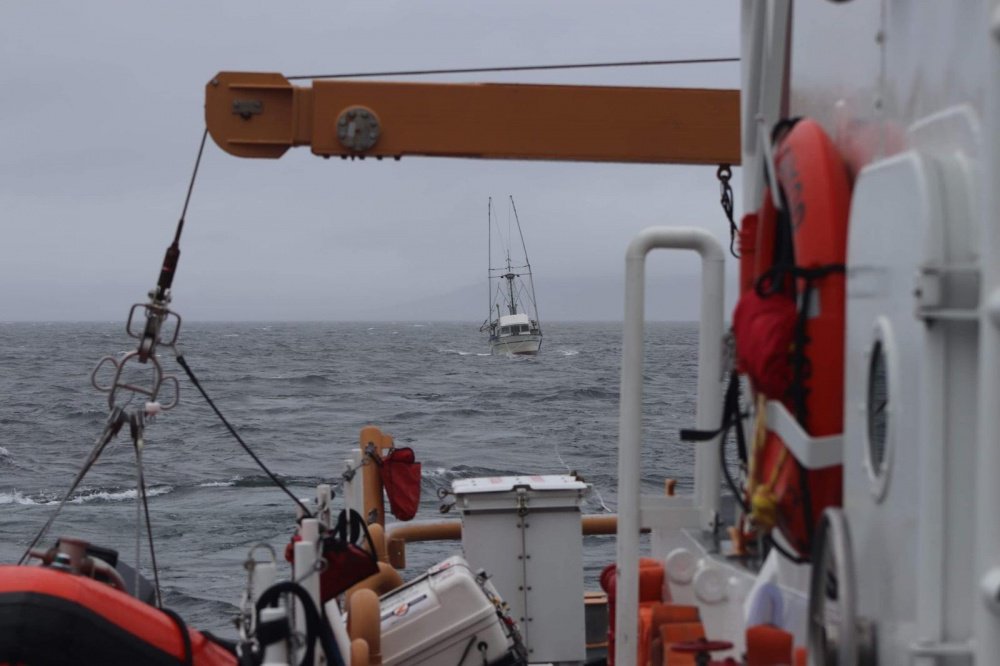 Courtesy photo U.S. Coast Guard District 17
Kake, Alaska (KINY) - The U.S. Coast Guard rescued a man from his fishing vessel that was taking on water northeast of Kake and towed the vessel to safety,
A helicopter from Air Station Sitka and the Cutter Anacapa from Petersburg were able to stop the leak in the hull and towed the vessel to Petersburg.
Watchstanders in Sector Juneau received a call from a friend of the fishermen who reported that his 40-foot fishing vessel, Neto, was taking
on water near Eliza Harbor. The friend also stated the fishermen did not have electronics on board and was experiencing difficulties with his dewatering pump. The friend also reported the fishermen's boat might be adrift without power.
Sector Juneau watchstanders issued an urgent marine information broadcast and requested the launch of the Sitka aircrew and Cutter Anacapa.
The helicopter crew arrived on scene and lowered a rescue swimmer and a pump and began to assist the fisherman with dewatering the vessel. Coast Guard Cutter Anacapa arrived on the scene, launched a small boat, and provided a crew member and an additional pump to help remove water from the vessel.
"Luckily, both air and cutter crews were able to arrive on scene before this fisherman ended up in serious trouble," said Lt. Cmdr. David Birky, aircraft commander for the case. "Having a functioning dewatering pump on board a boat with plenty of fuel can save your boat from sinking in many situations. If a boat loses power and is taking on water, a pump is often the only way to prevent a bad day from becoming much worse. It's also crucial to have multiple means of communicating, especially a marine radio, so you can call us directly in the case of a maritime emergency."
The fisherman was said to be in good shape.