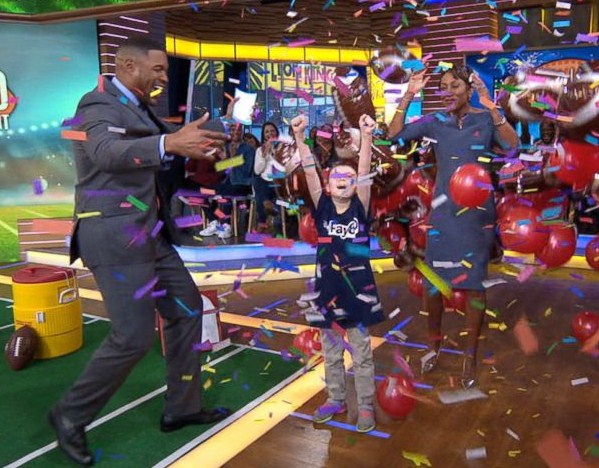 Camdyn Clancy of Juneau celebrates on the set of Good Morning America.
Juneau, Alaska (KINY) - A boy from Juneau will travel to the Super Bowl in Atlanta to be a guest commentator for ABC Sports.
The NFL teams aren't quite set, but one person is already Super Bowl bound after finding out Tuesday morning that he will be this year's NFL Kid Correspondent.
8-year-old Camdyn Clancy of Juneau came to "Good Morning America" all the way from Alaska to get the surprise of his life -- that he has been selected as this year's big winner for the NFL Play 60 contest.
The GMA spot can be seen here.
The excited youth football quarterback told former NFL star and "GMA" co-anchor Michael Strahan that he led his team in Alaska to a championship after battling back from an injury -- just like his favorite player, Tyler Lockett.
"He broke his leg and came back through the injury that could have actually stopped him from playing, but he actually chose to play," Clancy said. "I broke my arm when I was 4 years old, and four years later, I was quarterbacking and led my team to the championship."
Hundreds of young fans nationwide entered this year's NFL PLAY 60 Super Bowl Contest Presented by Danimals online at NFLRUSH.com/SuperKid. To be eligible, Camdyn submitted a video explaining why he should be the next NFL PLAY 60 Super Kid. Following interviews with the finalists, Camdyn was named the winner of this year's contest for his dedication to a healthy lifestyle, and passion and excitement for helping his peers to stay physically active and eat healthy.
Camdyn is a 3rd grade student, athlete, and valued member of his community. He encourages everyone in his neighborhood to get physically active and teaches them how to play football. He is involved in a variety of activities, from skiing to fishing, and when it gets dark out early in Alaska, he dons his headlamp, so he can still play outside. He empowers his peers to stay active and believes the opportunity to be this year's Super Kid will allow him the platform to encourage other kids to be healthy and strong.
During the week leading up to Super Bowl LIII, Camdyn will visit Super Bowl Experience Driven by Hyundai, the epicenter for NFL fans in Atlanta during Super Bowl Week; interview members of the Super Bowl teams at Super Bowl Opening Night Fueled by Gatorade; and visit Super Bowl Live Presented by Verizon, amongst other events.