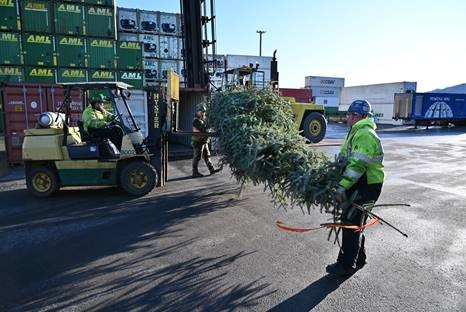 Photo courtesy of the Alaska Region of the U. S. Forest Service
Juneau, Alaska (KINY) - For the third year in a row, the U. S. Forest Service has provided a tree from the Tongass National Forest in time for the Governor's Holiday Open House next Tuesday.
Juneau Ranger Brad Orr said on Action Line that the 18 foot Sitka Spruce was harvested from Ketchikan and transported to Juneau by Alaska Marine Lines.
Irene Dundas from the Ketchikan Indian Community blessed the tree last week before it was taken.
Children from Holy Name Catholic School and Houghtailing Elementary in Ketchikan crafted the ornaments for the tree.
It will be on display in the Governor's Mansion through the holiday season.