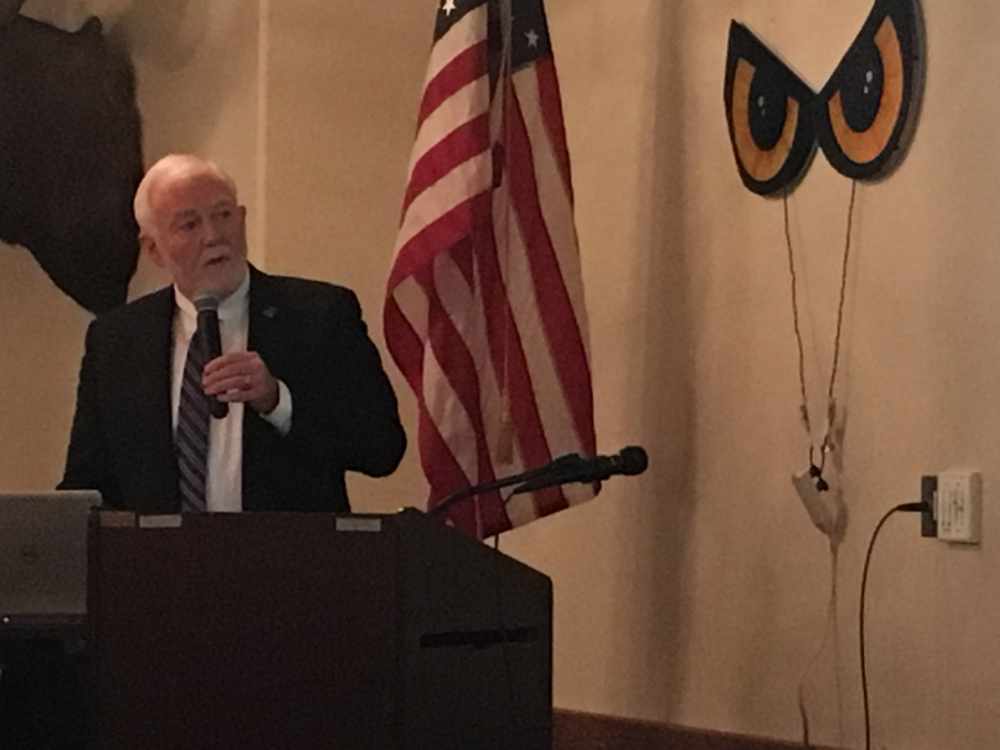 Juneau, Alaska (KINY) - The Chancellor of the University of Alaska Southeast, Rick Caulfield, and Jaeleen Kookesh, VP General Counsel for Sealaska Corporation were the featured speakers at the weekly roundtable luncheon of the Greater Juneau Chamber of Commerce.
Kookesh spoke on Ballot Measure 1, the Salmon initiative.
The proposition is sponsored by the Stand for Salmon Coalition. It is called an act providing for the protection of wild salmon and fish and wildlife habitat.
"It sounds great, we all support Salmon," she noted, "It is more than a simple catchphrase. There is so much more that is harmful to Alaska."
She said the issues are so complex, the bill could not make it out of committee this past session. Sealaska is opposed partly because it was developed by one set of interests. She said that the best solutions come from collaboration and balance. She predicted it will negatively impact rural communities and the Alaskan economy. "It will shut down some big projects in an attempt to address salmon habitat. It does so much more than that and is harmful to our state," she added.
Kookesh said various groups from environmental, cultural, economic, community, government, regulatory agencies, science, traditional knowledge, need to have input In these regulations. Supporters note the state has not updated environmental regulations since statehood in 1959. She said there is no evidence that current statutes are failing. "We ask them (Stand for Salmon supporters) show us where the fish habitats are being impacted and we don't get answers."
"Ocean temperatures, salinity issues, and the location of the fish are the biggest reasons for lower salmon runs," she added.
Proponents want more public comment in the permit process. They did not take public comment when they put the ballot measure together. She alleged it is anti-development and developed by outside interests, not Alaskans. She said it will impact mines, oil and gas, and timber projects in southeast. She said it also could impact energy projects.
"The presumption of all waters being anadromous or capable of being fish habitats is problematic," Kookesh added. She said it would be tough to prove a water body doesn't have any fish. "It is not clear at all, to me I'd rather vote on something that is clear," she noted.
Violations of the salmon initiative would be a criminal offense and not a civil matter. It also doesn't allow mitigation off-site, you must mitigate the impacts on the property. "I really think because of the undefined terms there will be a lot of litigation. This is not good for projects and property owners. Voting no doesn't mean you don't stand for salmon, we just want a more balanced approach," she said.
UAS Making Progress
Student enrollment is at 2,676 students this semester. 72-percent are part-time students and 66-percent are female. 19-percent of students are Alaska Native. The median age is 26-years-old. 51-percent of students earn credits online. The total budget is $24 million, 304 people are employees, and the university has a $33 million annual payroll. The budget has declined 19 percent since 2014.
Caulfield said UAS is affordable, offers a family style education, has a quality faculty and staff, and has an exceptional location for field research and internship experiences. "Many of our young people want the opportunity to get out of state. It is not inexpensive to do that. We are under the median, 45 percent in the cost of education compared to Boise State and Montana State."
Climate change research, mining and fishing jobs, and other trades are readily available to students in Juneau.
Goals this year include meeting the education and workforce needs of the region. This year there are 45,640 jobs with a $2.2 billion payroll. Jobs have grown in healthcare and mining this past year. Another goal is improvement in enrollment, retention, and completion. Enrollment has declined in the system overall.
The number of high school graduates also has declined. "Alaska has one of the lowest college-going rates of any state in the union. People can graduate from high school and go right into construction, and fishing and make good money."
Caulfield said it will be tougher to get a good job without some kind of secondary education and or training.
First-year student numbers are up 10-percent. Student retention is up 12-percent and career education enrollments are up 19-percent in the past year.
Tuition costs for entry-level career education were lowered by 25-percent in the past year. They also offer tuition waivers for adults who have taken some college in other states but have not earned a degree.
UAS is the statewide leader in teacher education. The CBJ created the teacher excellence fund with the Juneau Community Foundation. Over $1 million was raised. "I'm very appreciative of that effort. I know how difficult it is to raise money."
The UAS Center for Mine Training and the Mine Mechanic Program have gotten support from Coeur-Kensington and Hecla Greens Creek Mines. There is also a class offered to high school students called Introduction to Mining.
UAS also celebrated the opening of the UAS Maritime Training Center in Ketchikan. They also work with the US Coast Guard. It helps students qualify for officer training in Connecticut. They also focus on arts programs. Several professors have also offered classes at Lemon Creek Correctional Center.
"We need more opportunities for people who have made mistakes in their life and want to turn their life around," Caulfield added.
Another program is the Juneau House Build Project that constructs affordable homes for young families in Juneau.
They are also planning the Environmental Science facility at the former Auke Bay Marine Center. It will be dedicated to scientific research. It will add laboratory and instructional space. Construction begins next spring and the first class is expected to be taught in the fall of 2020.