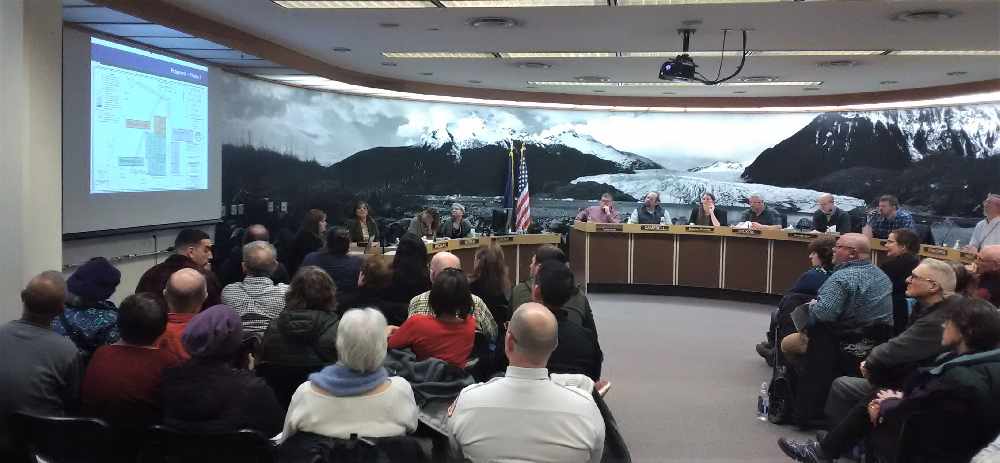 The CBJ Planning and Zoning Commission met on Tuesday night and went into Wednesday morning at City Hall. (Photo by Greg Knight)
Juneau, Alaska (KINY) - In front of a packed house on Tuesday, the CBJ Planning and Zoning Commission voted 5-3 to approve the first phase of new residential development near Lemon Creek.
The meeting pushed up to -- and beyond -- the normal end time for all CBJ meetings at 11 p.m., ending just after 12:18 a.m. on Wednesday.
Member Michael Levine was absent.
The development, which would be a 30.67-acre phased major subdivision, would include 12 single-family lots and one large tract to the east of Tamarack Trails on Glacier Highway at Vanderbilt Hill Road.
Member Andrew Campbell said that while he supports development, a deeper study of traffic impacts should be undertaken. Member Shannon Crossley said that given the first phase is only 12 units, she doesn't see a problem with secondary access at this time.
In 2018, Michael and William Heumann purchased the property with the intent to subdivide it and develop the parcel for single- and multi-family homes. A total of 293 units are proposed.
Many letters and emails were shared with planning staff before the meeting, with 60 examples being included in the commission's packet material.
Also included in the packet material was a letter from CBJ Assessor Robin Potter to Borough Planner Laurel Bruggeman that states, "As long as the conditions and requirements for site improvements (utilities and access) are met, I see this development as having a positive effect for Juneau housing needs in general … Juneau has the need for more residential development. The use of the property will help to meet those needs."
Juneau citizen Dane Lenaker submitted a letter that states, "The proposed subdivision is disharmonious with the existing subdivision."
Lenaker added that the development would cause a "change in density" that is inconsistent with the current neighborhood.
Fire Marshal Dan Jager told the commission that all new development would be required to have sprinklers -- and said that secondary access for public safety egress has been deeply studied by his department.
With nearly 300 planned units and another subdivision expected to be used as access for the new development, a secondary access road will be required.
A handful of citizens also spoke out against the project during public comment, with fire code, rights of way, quality of life, construction traffic, and greenbelt integration all mentioned.
Dawn Wolfe spoke on behalf of a number of concerned residents, saying, her street won't have the "same feel or character if her neighborhood" changes via the development.
The CBJ Planning Department staff had recommended that developers reduce particulates during construction, prevent runoff from entering bodies of water, submit a lighting plan, and work on a plan for installation of utilities, in addition to others.