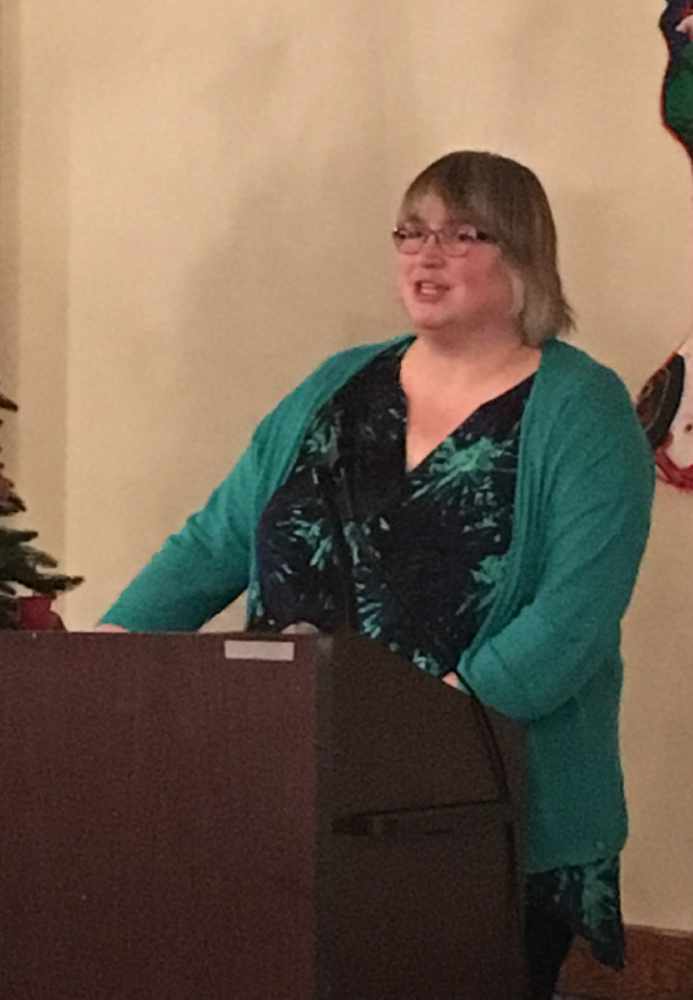 Juneau Mayor Beth Weldon.
Juneau, Alaska (KINY) Mayor Beth Weldon spoke about the future and Assembly goals for 2019 during a speech to the Greater Juneau Chamber of Commerce Thursday.
Goals include improvement in housing. She noted they added money to the affordable housing program and hired a housing coordinator. They are considering an apartment incentive program for those that add onto their homes. They are also considering a tax abatement for large multi-family housing projects.
The homeless problem remains on the Assembly radar.
The Phase 1 of Housing First involved $2.4 million from the CBJ. Phase 2 of the project could receive state funding. Thirty-two homeless residents were helped in phase one and another 32 homeless residents would be served by phase two. The CBJ could also spend money should the state funds fall through.
Another goal is economic development. Setting goals for tourism marketing and improving independent travelers are on the list. "One concern is should we cap tourism? We are a mixed crowd on that. Some want up to 1.5 million." Weldon said independent travelers spend more money in Juneau.
The new Juneau Arts and Culture Center continues to be discussed. Organizers and supporters of the project met with Weldon earlier this week. "Everyone is concerned about how much it will cost. We directed staff to come up with realistic numbers to see if there is a path forward."
The Mayor said the Childcare Committee is working hard and she hopes they will come up with some strong recommendations
The Assembly continues to review sales taxes and would love to collect taxes on internet purchases. Weldon said it could mean $1.2 million per year for Juneau. The taxes would have to be uniform across the state. There must also be a centralized collecting agency like the state or the Alaska Municipal League.
Senior sales tax is another item on the agenda. It would cost $4 million per year to give back the sales tax exemption to seniors. Another proposal is to raise the age requirement to 70. Another option is to raise the annual income limits from $35,000 to $40,000. "There are a lot of pressures on the budget. We will be looking at that closely."
Another project for the new year is a new City Hall. She reported that the rent the CBJ pays for offices today would pay for the new city hall eventually. There would be the upfront costs. One proposal is to build the city hall on top of the parking garage. Improvements to Centennial Hall and a decision on how much funding to give the new JACC will be on the table in 2019.
There is also a group interested in creating a senior assisted living facility in Vintage Park.
Three of the City's main unions will be up for collective bargaining this year.
Another priority is community wellness, working on the opioid problem, and public safety. She said programs at Bartlett Regional Hospital and Rainforest Recovery have made progress. Heroin is the current drug of choice. "We try to identify where gaps exist and try to fill those gaps. It is an ongoing battle."
Another effort has been to reduce energy costs in city facilities.
The city has also had more luck in recruitment of first responders. The fire department has a retention problem while the police department has more of a recruitment problem. The CBJ gave paramedics lump sum payments to try and improve recruitment. The fire department now has 42 firefighters, an increase of six in the past year.
The police department has eight vacant positions. They employ 55 officers. The police and CCFR partnered with the US Army to help with recruitment.
Violent crime rose by 6-percent in 2017. This compares to 39-percent in 2015, and 24-percent in 2016. Arrests went up to 15-percent last year. Thefts went up by 4-percent last year and over 40-percent in 2016. Burglaries rose by 5-percent in 2017, and 83-percent in 2016. "They are going after people who do multiple offenses and the strategy is working well."
The total value of drugs seized last year was $1.8 million. Vandalism rose by 25-percent in 2017. The police currently have seven openings for dispatchers.
She also mentioned improvement in snow plowing and clearing of sidewalks and making Juneau a welcoming capital city.