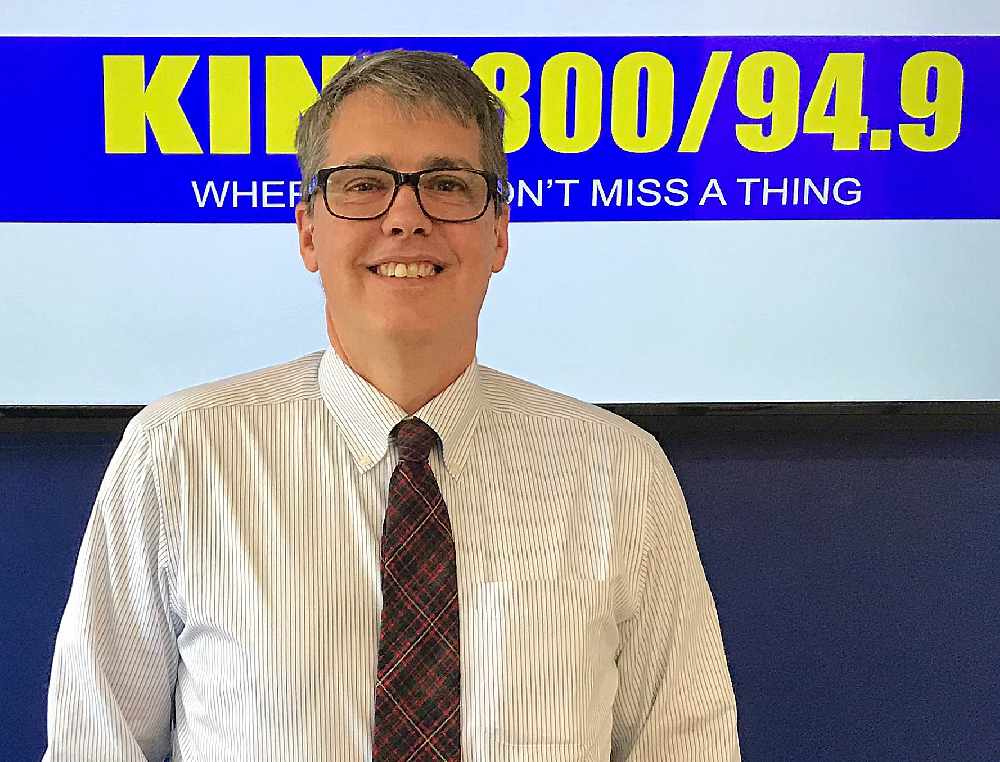 CBJ Manager Rorie Watt.
Juneau, Alaska (KINY) - The resolution allows the CBJ to get state and federal help for fire rescue, Juneau Police and Bartlett Hospital.
The resolution would also assist local business to help them apply for federal loans and assistance. This declaration would also allow the City & Borough of Juneau to seek reimbursement for its costs in addressing COVID-19.
It also helps the CBJ purchase emergency supplies if needed.
A second resolution would allow up to five Assemblymembers to participate by telephone, encourage seating for members of the public to be three to six feet apart, and encourage CBJ public meetings with substantial public interest to be live broadcast, like with Facebook Live. Members of the public will still be provided a public comment opportunity at meetings.
City Manager Rorie Watt gave an update on the preparations for the virus. He said many local small businesses are concerned about cash flow and the economic impacts. He recommended the CBJ not close restaurants and bars.
"At the national level, I see a sense of urgency. We saw the governor issue the 15-day school closure. I think they are very much focused on that. I think the message to the public is our state and national leaders really do expect the virus to spread and they are recommending broad measures."
Watt said Juneau has closed schools, the library, pools, and other activities. They have limited recreation activities for seniors to follow the guidelines for social distancing.
The Emergency Operations Center continues to plan a stand-alone drive-thru testing center. "The goal is to reduce the pressure on the emergency room when the time is right."
It would provide an initial screening for those suffering flu-like symptoms.
The said the United Way 211 information line can answer the questions of the community.
The CBJ will receive 10 housing trailers for temporary housing.
Watt said the economic impacts are coming into focus. Several cruise lines have suspended operations and a directive from Canada doesn't allow cruise ships to travel to Alaska until July 1.
The cruise ship Westerdam has changed its plan and is not planning to come to Juneau. Watt said the industry is trying to figure out what its next steps will be with several cruise ships.
"The Alaska cruise season is not starting in April and it is likely to not happen until at least July, or much later, and possibly not this summer."
Watt said they will push the federal delegation for legislation that benefits the local businesses.
"We have a great concern for our small businesses and their employees," he added.
Watt said they have reassigned certain CBJ employees impacted by the closure of public facilities.
Bartlett Hospital has 12 ventilators available. The state is also working to get more protective gear for medical professionals.
Several providers have expressed confidence that barges will continue to bring supplies into Juneau on their regular schedule.
Watt said two positive cases of the virus were reported in Fairbanks.
Mayor Beth Weldon said she has heard about local businesses laying off workers due to concerns over the virus.
Watt said they have contacted the federal delegation to help qualify Juneau for economic aid in legislation currently being considered in Congress.
Assemblymember Rob Edwardson said he does not see any panic in Juneau. He said people are concerned. He voiced confidence that the store shelves will be restocked.