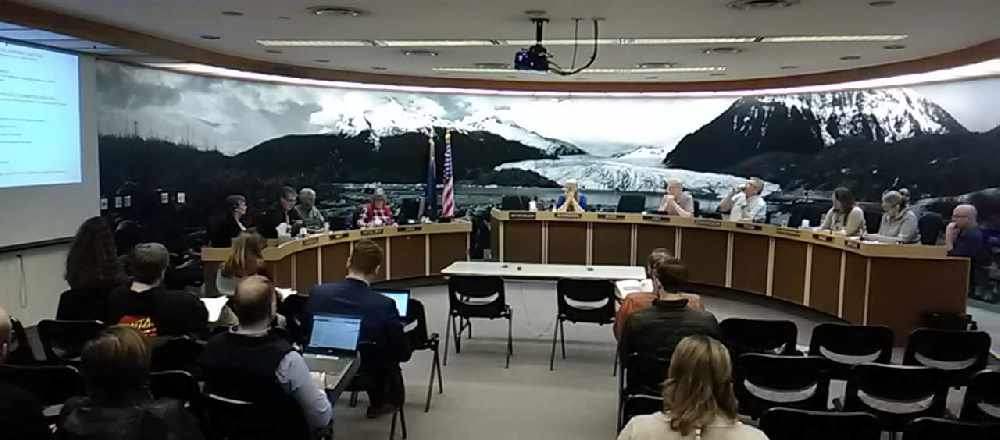 The CBJ Finance Committee met on Wednesday night. (Photo by Greg Knight)
Juneau, Alaska (KINY) - City Manager Rorie Watt presented the preliminary budget for fiscal year 2020 on April 3 during a Special CBJ Assembly meeting.
In all the proposed operating budget totals $356 million. Budgeted revenues total $350 million, with a net $6 million drawn from fund balance accounts.
The CBJ operating budget includes general government and enterprise organizations. General government includes departments like Juneau Police Department, Capital City Fire/Rescue, Parks and Recreation, and the Libraries. Enterprise organizations are Bartlett Regional Hospital, Juneau International Airport, Docks and Harbors, and Water and Sewer.
The preliminary budget includes the CBJ operating budget, the Juneau School District general operating budget, capital improvement projects, and the property tax mill levy rate.
Regarding the operating budget, Watt anticipates state support in the amount of just more than $18.25 million. Taxes would account for $106.3 million, and $139.5 million from charges for services. For schools, Watt anticipates about $46.5 million from the state, with $5.4 million in federal funds.
The millage rate for property taxes would remain unchanged under Watt's proposal at 10.56.
Expenditures proposed for the school district are $87.5 million, an increase of $200,000 from fiscal year 2019.
The assembly also heard a presentation regarding the borough's capital improvement plan and establishing project priorities for the next year. A total of $35.7 million is slated for capital projects funding, while Juneau International Airport would see unscheduled funding of $24.9 million. Other unscheduled funding would total $15.7 million.
The assembly will begin work next week toward forming a complete and final budget document, which must be adopted by June 15. The fiscal year 2020 begins July 1 and ends June 30, 2020.
The next meeting of the finance committee is set for April 10. The budget for JIA, Docks and Harbors, and the Capital Improvements Projects Program plan will be discussed. A meeting on April 17 will focus on Travel Juneau, the Juneau Economic Development Council, and Marine Passenger Fee recommendations.