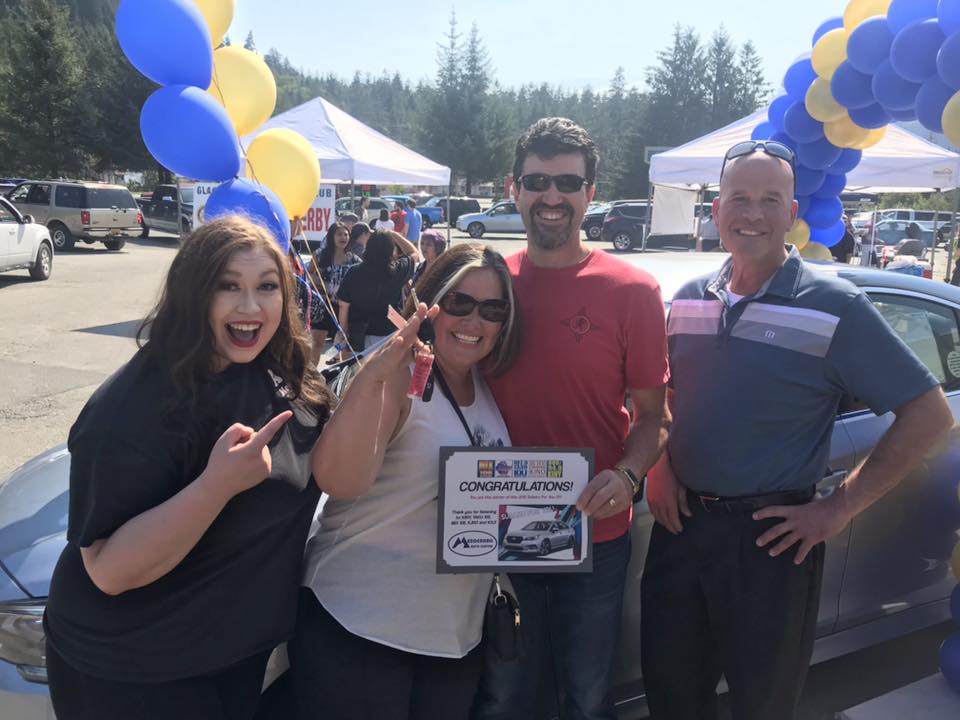 Juneau Radio Center's Angel Montgomery, Catherine Sayre, Fred Sayre and Mendenhall Auto Center's Mark Troupin celebrate the win on Saturday.
Juneau, Alaska (KINY) - It went down to the wire as the final key handed out among ten finalists unlocked the new Subaru.
Catherine Sayre, along with her husband Fred Sayre, took home the 2019 Subaru Legacy on Saturday during the contest's finale at Western Auto in Lemon Creek.
Ten keys were handed out to the finalists -- and after nine attempts by nine contestants -- Sayre had the winning key with No. 10.
After winning the new car, Catherine said it would be of great benefit to her and the Sayre family.
"It's so great for our family to have a new car with really good gas mileage and it going to be good for us to get back and forth to work with," she said. "We haven't had a good gas mileage car before."
More than 1,500 qualifiers were entered in the Juneau Radio Center contest and more than 2,000 were in attendance at the event.
Juneau Radio Center partnered with Mendenhall Auto Center for the contest.