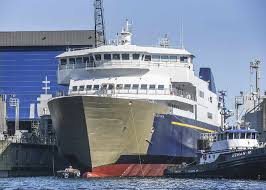 Juneau, Alaska (KINY) - The ferry 30 miles north of the Auke Bay terminal would better serve the short range of the new Alaska Class ferries.
CoastAlaska reported that Gov. Mike Dunleavy's administration is considering the plan to ensure day boats can connect Juneau with Haines and Skagway.
The Alaska Class ferry Tazlina is expected to take its first voyage in May. The plan is to run from Auke Bay to Haines and Skagway and back each day.
The ferry has no rest areas for crews and Coast Guard regulations require the day boat to complete the round-trip in 12 hours.
The ferry terminal would be seasonal. The estimated price tag is $27 million. This includes design and some road improvements.

Cascade Point is owned by Goldbelt, Inc. It operates a nearby commuter ferry to send workers to the Kensington gold mine.
The authorization to construct would come from the legislature appropriation for the Juneau Access project.
Details of the Cascade Point ferry terminal plan first appeared earlier this month on Must Read Alaska, a conservative political blog.