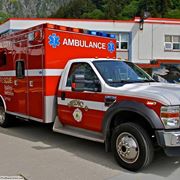 Juneau, Alaska (KINY) - Capital City Fire Rescue plans to make some changes to the way it responds to calls this spring.
Chief Rich Etheridge talked about that on Action Line. "People are going to see a lot less lights and sirens on the roads. We've been working with our medical director and doing a lot of research. What people are finding nationwide is going lights and sirens actually doesn't save you a lot of time in some cases and it doesn't change the outcome of the patients' medical care."
So the chief adds that they are analyzing all their calls to determine which ones need to have lights and sirens. He said they have been helpful on thoroughfares such as Egan Drive, but a lot of times they are a determent in the heart of downtown since some motorists may panic and not know where to stop.
In addition, the change will spare the ears of fire department crews. "Just about every firefighter you ever meet is going to have some kind of hearing deficit."
The chief said they are aiming to implement that change effective May 1.