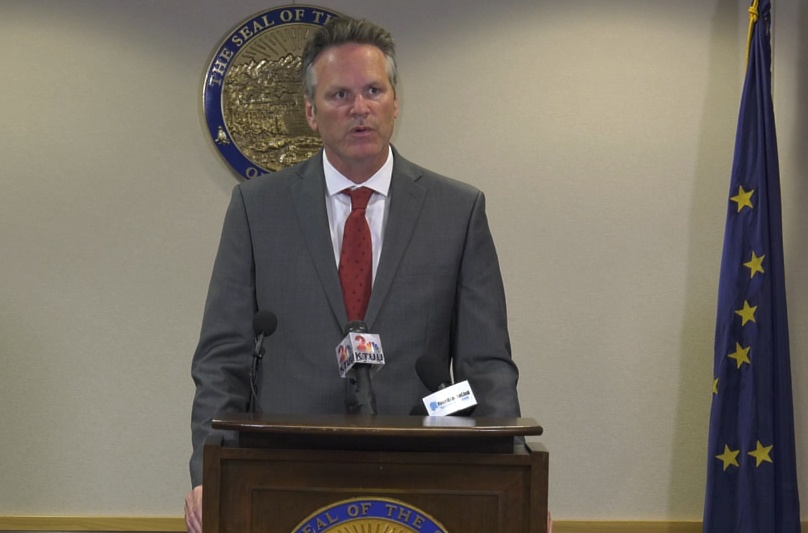 Gov. Mike Dunleavy holds a press conference.
Juneau, Alaska (KINY) - The Alaska Broadcasters Association Board of Directors has joined the Alaska Press Club in requesting Gov. Mike Dunleavy return to holding regular press conferences.
In a letter dated Oct. 13, the board requested that the governor, rather than Communications and Community Outreach Officer Dave Stieren or other communications staff, answer open and direct questions on topics other than COVID-19.
The letter was signed by Board President DeeDee Caciari (KTVF), as well as Kim Williams (iHeart Media), Ed Ulman (APM), Matt Wilson (KSRM), Scott Smith (Alpha Media), Bill Legere (KTOO), Lauren Adams (KUCB), Patty Burchell (KICY), Ellen Simeonoff (KVOX/KRXX), Richard Burns (Frontier Media), and Charles Sather (KNBA).
The board is calling the move an "unprecedented step."
"We recognize and appreciate access to [Dave Stieren], but this is not a substitute for media availabilities with you – it should be viewed as additive," the letter states. "Alaskans are looking to you as the highest elected official in the State to answer questions on important issues of the day and for your perspective, not surrogates answering questions on the administration's behalf.
"This is why the Alaska Broadcasters Association is taking the unprecedented step of urging a Governor to hold open media availabilities – on at least a twice-monthly basis – without precleared, scripted questions or limits on topics for discussion and for media to be allowed to ask follow up questions."
The letter was reportedly delivered to Chief of Staff Ben Stevens on Tuesday.
News of the North has reached out for comment to both Stieren and the governor's spokesperson, Jeff Turner.