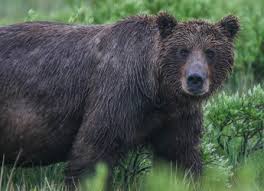 Juneau, Alaska (KINY) - The Mendenhall Glacier is holding a bear spray free clinic.
Teresa Whipple is leading the class at Mendenhall Glacier's visitor center with Ursa Major Training and Consulting.
Participants will practice using bear spray on a moving target in order to be prepared for the unfortunate situation in which they may confront an aggressive bear.
"This year the presentation is definitely going to include when do I use it, what situation might I need it in, what do I do if," Whipple talks more about what the class will focus on this year.
Before resorting to bear spray as a deterrent, Whipple says the biggest preventive is making lots of noise on trails.
She says most of the time if bears hear you coming, they will move 20 feet off the trail to avoid you and come back once you've left so be loud or even bring a speaker with you while recreating.
"The idea behind the bear spray is that when you're so uncomfortable that you need to use it, that you've been practicing how to use it. Because it's a tool and any tool that you don't know how to use properly is going to be useless to us," Whipple explains why they are holding the class.
If you do use bear spray, be careful to hold it away from your eyes!
The class will be on April 30th at 1:00pm.
The website to sign up for is ursamajortc.com.