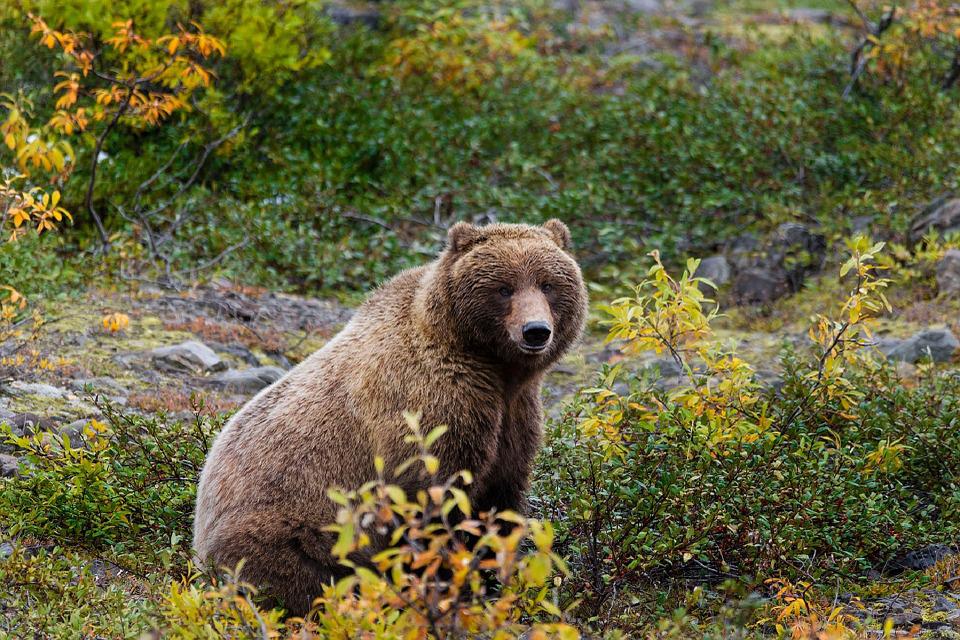 Stock image of a brown bear in Alaska, courtesy of Max Pixel.
Juneau, Alaska (KINY) A contracted employee died at Hecla Greens Creek Mine this morning after an encounter with bears, company officials said.
The name of the worker was not immediately released so that family members can be notified.
General Manager of Hecla Greens Creek, Keith Malone, released this statement about the incident, "I want to express our condolences to the families, colleagues, and friends of the individual at this difficult time."
The incident occurred at a remote drill site on the surface of the mine property only accessed by helicopter on Admiralty Island. Alaska State Troopers will investigate the death.
Troopers reported the incident was reported at 8:45 AM.
The Greens Creek Mine is located on Admiralty Island, approximately 18 miles south of Juneau, and produces silver, zinc, lead, and gold. The mine is 100% owned and operated by Hecla Mining Company.
Update - 3:15pm
According to State Trooper reports, 18-year-old Anthony David Montoya from Hollis, Oklahoma had been at a site on Admiralty Island where he was attacked by a sow that had two cubs. All three of those bears were killed before Troopers arrived on scene. Montoya was an employee of Timberline Drilling, which is based in Coeur d'Alene, Idaho.
It was reported that next of kin were notified and that the body will go to the State Medical Examiner's office for an autopsy.
The investigation continues.
Update 7:30pm
Mike Satre, Manager of Government and Community Relations with Hecla Greens Creek Mine, had deep condolences for the family and co-workers.
"This is a tragic and sad day for the Hecla Greens Creek family. We've been able to notify his family and we're currently working with State and Federal Authorities to investigate this tragedy."
Satre says that anyone at the mines for any reason receives site-specific training on bears.
"Bears are constant visitors in and around the mines. We have worked alongside them for almost 30 years without incident, but unfortunately, that ends today. All employees, contractors, and visitors receive site-specific training in regards to the bear hazard that exists on Admiralty Island around our operations and we certainly have policies and procedures for keeping our employees safe."