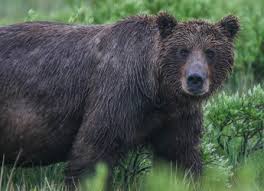 Juneau, Alaska (KINY) - A man on a bicycle was bitten by a bear near Cantwell, in interior Alaska yesterday, just after 12 pm. According to a report from the Alaska State Troopers, the unidentified man was riding his bike along the Jack river, when he saw a brown bear running towards him 10-15 yards away.
The man says he jumped off his bike and started yelling at the bear, falling to the ground covering his neck, before the bear contacted him.
He believes he kicked at the bear, before it bit him once, just below his right knee.
the bear then retreated back into the vegetation in the same direction it came.
He was carrying a firearm but did not discharge it during the encounter.
The man said he didn't notice anything unusual about the mauling and said he believed the bear to be alone.
He then walked to the nearby highway, called a friend for a ride, and got his puncture wounds and lacerations treated at the Healy Medical Clinic.
according to the troopers, no additional response or investigation is required at this time.