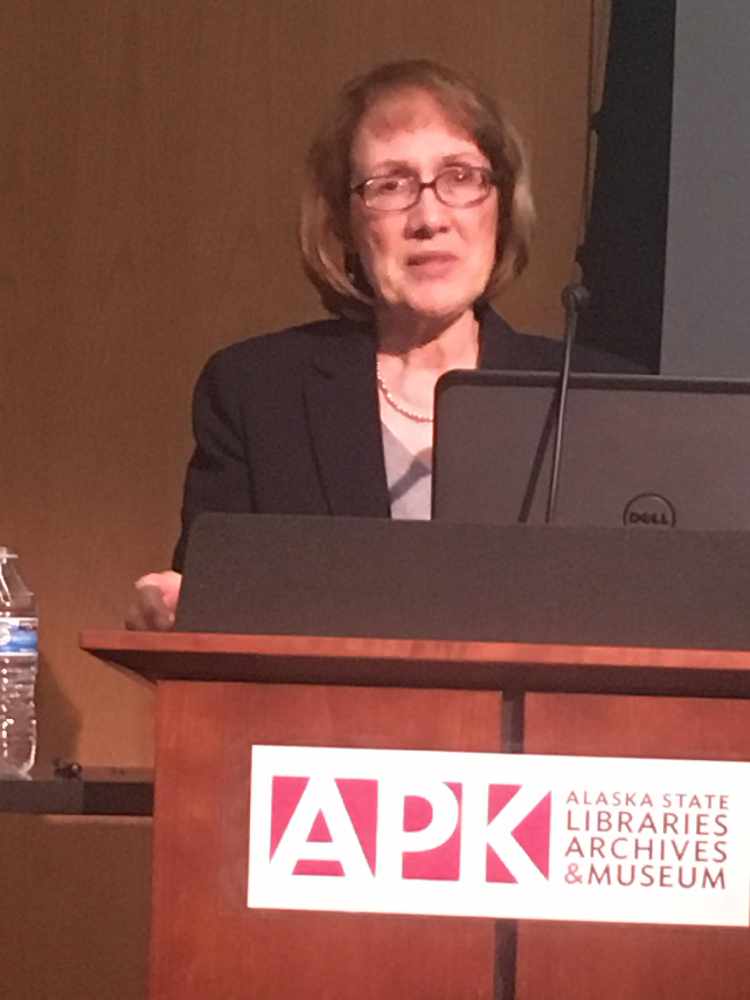 Mary Ehrlander speaks at the APK
Juneau, Alaska (KINY) The 100-year remembrance of the Princess Sophia continued with an author talk by Mary Ehrlander, who wrote a book about one of the passengers on board, Walter Harper, Alaska Native Son.
Harper was part of an expedition that was the first to climb Mount Denali.
The wife of Lt. Governor Byron Mallott, Toni, also spoke at the event, as she is a relative of Harpers.
Erhlander said the rest of Alaska doesn't have much of a connection or knowledge of the Sophia disaster, considered to be the Titanic of the
North.
She went into Harper's life and upbringing, and his ability to thrive in two worlds, native and those of the western immigrants.
He also assisted noted Episcopal missionary Hudson Stuck and became a top dog sled driver, riverboat operator, and interpreter.
Harper was headed to Pennsylvania at the time of the Sophia disaster with his new bride, the former Frances Wells, to join the Army in World War 1.
He wanted to serve his people afterward as a medical missionary. He also took part in a six-month 2500-mile expedition from Fort Yukon around the north slope.
Ehrlander said there is a great message in the book, "I think this story is so inspiring. We should know Walter Harper. Through this book, he can have the legacy he should have had a century ago. I think we can learn from Walter Harper."
Ehrlander said missionaries had both good and bad influences on native people. She said the missionaries cared about the welfare of the natives and while some tried to change the native way they did some tremendous good among the natives.
They provided medical care when no one else was. They also taught natives. The federal government ignored the health care needs of natives at the time. "Some though were actively exploiting them."
Ehrlander said not all missionaries were trying to kill the Indian in the man but cared about native Alaskans, "This is one of the misconceptions I feel is important to try and dispel and that is the notion that all missionaries were bad. There was great variation, but Missionaries were actually concerned about the welfare of Alaska natives."
Harper was only on the Sophia for 40 hours before the tragedy. Ehrlander said Harper enjoyed being in the outdoors. It was not his dream to climb Mt. Denali. Ehrlander said she has little details of his experience on the Sophia.