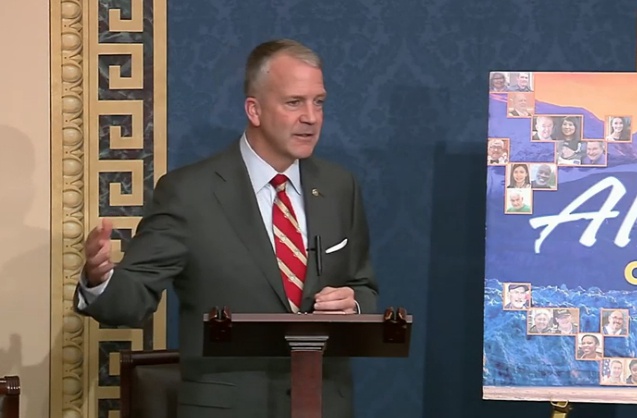 U.S. Sen. Dan Sullivan.
Washington, DC (KINY) - U.S. Senator Dan Sullivan on Wednesday recognized Joshua Hall and Jennifer Childress, teachers at Dimond High School in Anchorage, Dawn Wilcox, a teacher at Campbell Elementary in Anchorage, and Angie Wright, a teacher at Auke Bay Elementary in Juneau, on the floor of the Senate.
The four Alaska educators were among 215 teachers across the country to receive the Presidential Award for Excellence in Mathematics and Science Teaching, announced by the White House in October.
This award is the highest honor bestowed by the United States government specifically for K-12 science, technology, engineering, mathematics, or computer science teaching. Senator Sullivan recognized Hall, Childress, Wilcox, and Wright as part of his series, "Alaskan of the Week."
"Ms. Wright has been an educator for over 16 years," Sen. Sullivan said. "She began her career teaching in rural Alaska, which I view as the heart and soul of our State. For the last 7 years she taught at Auke Bay in Juneau, where she was born and raised. She is passionate about incorporating place-based knowledge into the classroom. She says that every year her students participate in placebased learning. They pick berries, a traditional part of the Alaska Native subsistence lifestyle, in order to gather the data and more detailed information about our incredible environments throughout the State. She also takes her fourth and fifth grade students on a field trip to the muskeg ecosystem to learn how animals adapt to survive in different environments.
''Teaching in Alaska is a gift and taking advantage of it is something I value very much,'' Wright said.