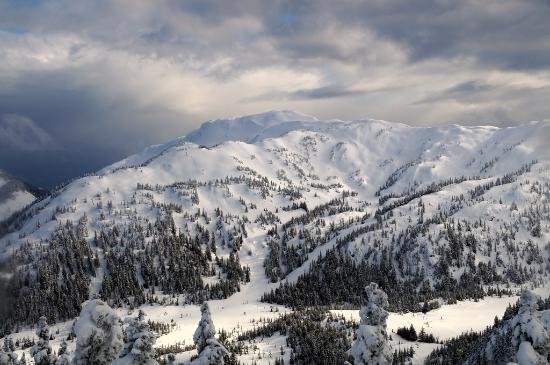 Eaglecrest Ski Area
Juneau, Alaska (KINY) - The Assembly Finance Committee received an update on the gondola ski lift in Austria that the Eaglecrest Ski Area wants to purchase during a meeting Saturday morning.
CBJ Attorney Robert Palmer, who is coordinating the purchase and transportation of the gondola with Eaglecrest and other city and borough officials, told members there was some good news to share.
"We had a Juneau family member through a fantastic Juneau community connection who actually rode the gondola on Thursday and three things came out of that. One, the gondola exists. The gondola is in operating condition up to ski area standards in Austria. And number three, that individual knows that the gondola has been sold this Spring. So, three nice tidbits through a weird Juneau connection here."
The motion to purchase the gondola for $2 Million was amended during a previous meeting stipulating that the gondola could not be transported from Austria to Juneau without first obtaining Assembly approval.
There seemed to be some confusion about that as evidenced by a question posed by Assemblymember Alicia Hughes-Skandijs. She wondered why there hasn't been movement on procurement to store the ski lift. Palmer responded by saying it was his understanding not to encumber shipping costs until there's an update to the Committee of the Whole. He added that they have not encumbered shipping costs and they won't be until sometime after the week of April 11. So he said there's still an opportunity for another committee meeting
The idea behind the amendment offered by Deputy Mayor Maria Gladziszewski was that in the event a problem with the gondola cropped up it could be sold in Europe rather than transported here.
Palmer brought up a problem for a potential resale. He said they have not been able to find a U. S. ski lift engineer who will agree to install the gondola unless there's a U. S. ski lift engineer who travels to Austria to inspect while is still operating. "And so if another company has a similar rule in their ski lift safety codes where they have to see it operating before it gets installed if its a used gondola, really the only place that I'm aware of that it could be resold is in the United States unless its an Austria company that can see it while it's still running in the next month."
The ski resort in Austria plans to start dismantling the gondola to make room for a new ski lift the week of April 11.