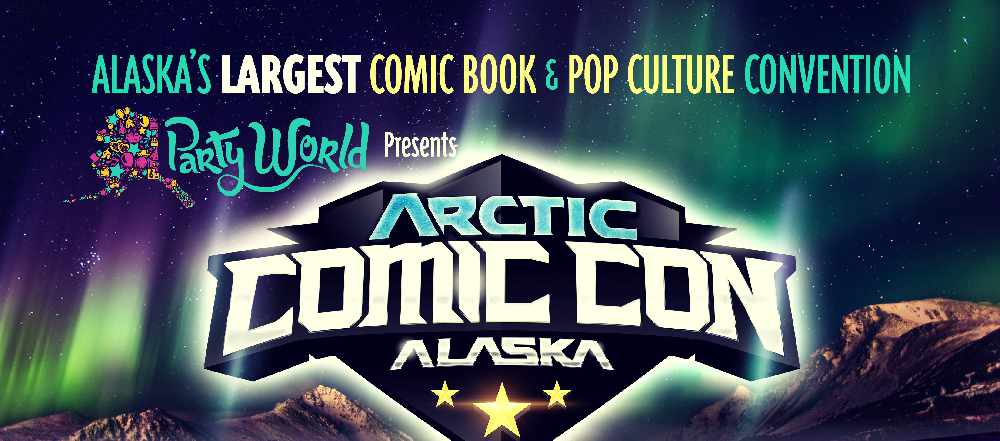 Juneau, AK (KINY) - While most of the major pop-culture events and conventions happen on either the West Coast or the East Coast, Alaska will be getting its own major convention in Anchorage called the Arctic Comic Con.
While just being around those with similar passions, one of the main pulls is being able to meet some of the creative minds behind those works.
At Arctic Comic Con people can expect to see: actor Sam Jones (Flash Gordon), actress Janeshia Adams-Ginyard (Black Panther), Pro Wrestler Chavo Geurrero Jr (WWF, WCW) comic artists Randy Emberlin and Tadd Galusha, and UFC legend Randy Couture who was also in The Expendables Trilogy. This short list doesn't even cover all of the guests, which can be found on the Arctic Comic Con website.
For those looking for some special events, there will be panels with some of the guests, as well as a family cosplay walk-on. Vendors will also be there selling the typical con affair, as well as artists and food vendors.
We talked to Brad Erickson, President of Erickson Unlimited and one of the creators of the Arctic Comic Con for more details about the convention.
This is actually the first year for the Arctic Comic Con. Erickson explained how the idea came to be.
"There have been some smaller comic book type events in Anchorage and around Alaska, but nothing huge with bringing in well-known celebrities and comic book artists and things like that."
"It kind of came about when a friend of mine, who is really into comic books, he used to do some small comic book things back in the 1990's. We talked about it, he had been down to San Diego, Seattle, Portland for other conventions, and asked ourselves, why don't we do one in Alaska?"
We asked Erickson about the significance of pop-culture in Alaska, as well as the challenges that state has when it comes to do events.
"Pop-Culture is everywhere and the thing with Alaska is, because we're kind of in the middle of nowhere. I mean we're not an island, but we might as well be. The main thing is that concerts, conventions, and events like this are hard to do, because we are so far away from everything."
"We don't have a big market either, Anchorage is the biggest city and it's under 300,000 and you look at lower 48 places where they have bigger cities and bigger draws from surrounding locales, again we don't have that convenience of driving to another state to go to things."
"Yes, it's difficult to put these shows on, but that doesn't mean that people here are not into pop-culture whether is be comic books, reality tv, or wrestling. It's just that we are a little away from everything. That's also the draw for a lot of celebrities to be guests at these events, most of them have never been to Alaska, so it's exciting for them as well."
While the fun of being surrounded by pop-culture is a big draw for people to go to these conventions, Erickson said that meeting people from things he loves and seeing the diversity of those attending is what he looks forward to the most.
"I'm excited about the celebrities; we're bringing up John Schneider, who played Bo Duke, and as a kid I grew up watching 'The Dukes of Hazzard'. Our Fridays basically revolved around that show."
"A lot of it is we went down to Portland and saw their convention and what I really liked was just the diversity of people that were coming to the show, just all different kinds of people, all different backgrounds, all different ethnicities."
Another thing to look forward to is the various costumes attendees typically show off at conventions.
"And it's also the costumes, looking forward to seeing the cosplay costumes. I mean people spend a lot of money and time putting their costumes together, whether it's a superhero, fictional character, medieval character, or something like that, that's going to be really cool too."
Those traveling to Anchorage may want to look into staying at the Hilton to save some cash. There will also be some events to get the weekend started.
"We've got a special offer at the Hilton, so if you'd like to go get a room at the Hilton, that's where we're all staying, just call the Hilton downtown and just mention the Arctic Comic-Con and there's $109 a night rate."
"We're also doing some special concerts and stuff like that. Friday, April 27th we're doing a kickoff party both upstairs and downstairs at the Hard Rock Cafe."
Erickson elaborated on what to expect at those events.
"Downstairs we're going to have wrestler Chavo Guerrero hosting a wrestling party, so you can dress up as your favorite wrestler. Then upstairs John Schneider from 'Dukes of Hazzard' and 'Smallville' and all that will be doing a performance. A lot of people didn't know that Schneider had a very successful singing career in the 1980's; he's an amazing singer and songwriter."
"Saturday, we're doing a comedy show with comedian Brian Posehn. A lot of people remember him from 'The Big Bang Theory' and 'Just Shoot Me'; he's an amazing artist and he was actually a writer for 'Deadpool' for about seven years.
More information can be found on the Arctic Comic Con website, as well as ticket and event information. The event will be taking place in the Dena' ina Center in Anchorage on April 28th and the 29th.