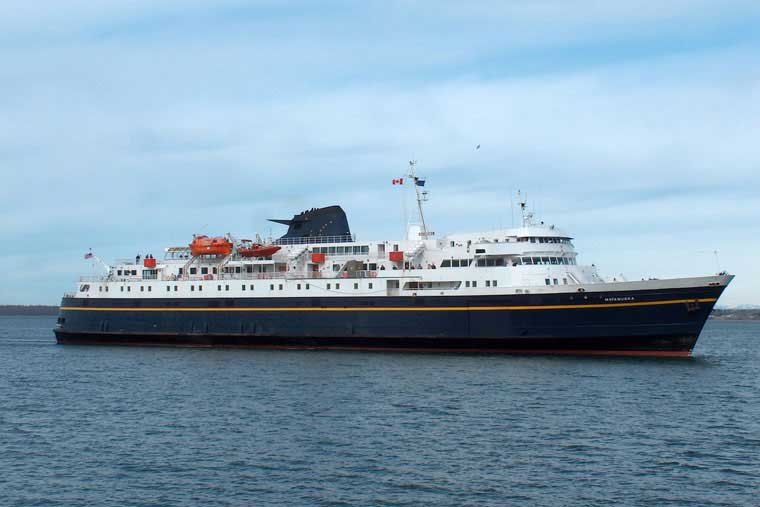 The ferry Matanuska.
Juneau, Alaska (KINY) - The Chairman of the Alaska Marine Highway Reshaping Group, Admiral Tom Barrett said the group has jumped into the task to come up with ways to improve the system.
Task one is setting strategic objectives for the system.
Questions they want to answer include how can we make the system dependable and reliable, how can we insulate it from political influence, how can we make it affordable and how can we keep the fleet maintained.
There have been 14 different studies of the system completed in the past 16 years.
Admiral Barrett said very few of the recommendations have been followed, "The system, for a whole variety of reasons, is in tough shape and everybody realizes it. There has been a lot of reports that date back many years. There were many good ideas but not many have been implemented."
He said it is productive to move forward and not look back on how the system got here. He added the group is looking at a long-term view of the system.
He said there is a need for fundamental reform of the system.
A primary goal is to have a system that is reliable. Another is financial stability.
They could opt to recommend an independent board or authority.
Admiral Barrett said this new group must have some power to change things, "If you change the government structure it won't make a difference unless that governance structure has adequate decision authority, that management under it must have adequate decision authority. The process they operate has to have more flexibility and the ability to make changes. It simply can't just be another layer. It has to have adequate authority and longevity."
Barrett uses the word functional, and efficient when setting a goal for the system. He wants the system to serve rural communities and be something the state can be proud of.
"The focus has to be Alaska communities. It is not designed to bring in more tourists. If that comes that is maybe a good thing. Our focus has to be on benefitting Alaskans and coastal Alaska communities. It has to connect Alaskans to mainland roads and airports and move people and freight. The focus should be on Alaskans and connecting them to basic transportation infrastructure."
He adds the options have to be feasible and something that can be implemented.
He said there is a possibility that certain ferry routes can be privatized.
"Partnering with the private sector to get more integrated approaches is certainly part of the mix. Everything is on the table. Maybe they don't work for the entire system but maybe they work in pieces. We have to pull all the levers we can to get the outcome we want here."
The report is expected to be completed in September.