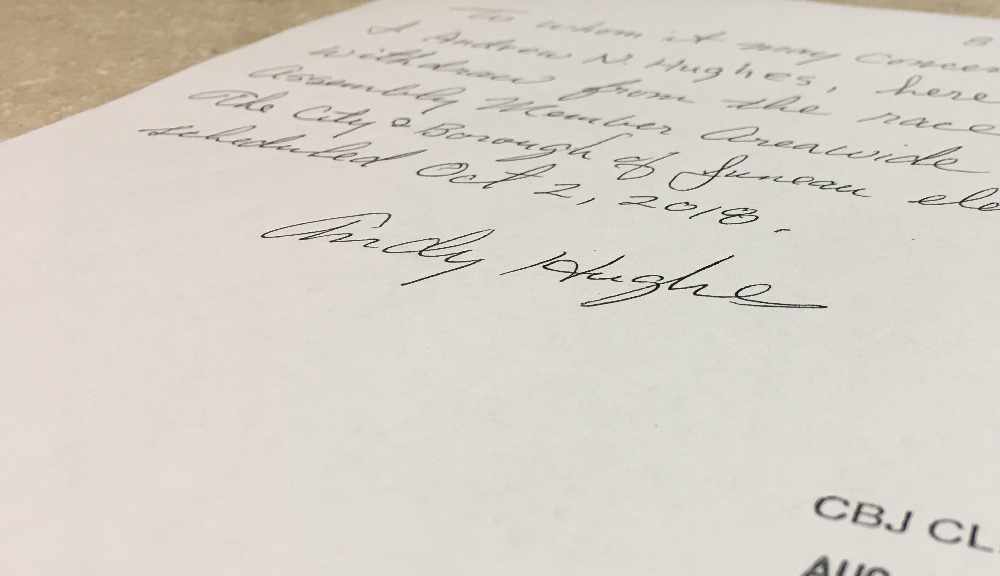 Juneau, AK (KINY) - After talking with another candidate and friend, Andy Hughes has withdrawn his name from the race for the Areawide Assembly seat.
Hughes turned in a letter of intent on Thursday evening and we later caught up to him to ask him why.
Hughes had run for other seats in the past, last year he had entered as a write-in for an areawide seat. He tells us that he ran last year due to not wanting to see an uncontested seat. His thought process was similar for this year, as Norton Gregory had filed his resignation to run for Mayor just before the elections office closed. Hughes had talked to his neighbors, who also wanted to see at least two candidates to choose from, and decided to run again this year.
However, just after he turned in his papers, his friend Tom Williams walked into the Elections office to put in for the same seat. A few days later, Hughes had a thought that he presented to Williams.
"I talked to Tom and I said, 'Tom how would you like to have an Assistant Manager and I withdraw?' and he said, 'That sounds great!"
Hughes said that he also decided to run and go door-to-door to get more residents out to vote.
"How do you stimulate people to get to the ballot? I don't know. I do know though that last year I did accomplish that objective because there were a number of people in my neighborhood who said that they were not planning on going to the election because there wasn't really much contest."
"So I asked them if they would go and vote for me if I entered as a write-in? They said that they would and they did."
Hughes was excited to help out Williams in a supportive role. Hughes tells us that this has lifted a lot of stress off of his shoulders.