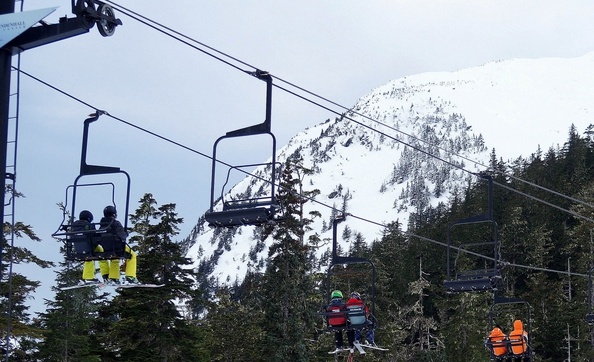 Eaglecrest Ski Area.
Juneau, Alaska (KINY) - During the second half of the final regular legislative day in the House, the body passed Senate Bill 16, which relates to alcoholic beverage licenses and permits, as well as the bond requirement for certain alcoholic beverage license holders.
The bill was carried by Rep. Louise Stutes. It passed on a 37-0 vote.
Ski and snowboard areas have not historically been included in a provision of state law specifying the recreational places or events where alcohol sales are permitted. The legislation proposed by Republican Sen. Peter Micciche added ski and snowboard areas to the list.
Eaglecrest Ski Area in Juneau had been poised to open a bar until the state's Alcoholic Beverage Control Board last fall rejected its application.
The bill, more broadly, is aimed at preserving the liquor license for the Alaska State Fair.
Rep. Tammie Wilson said, "The ABC Board did not handle this issue correctly," to the fact that the board had previously denied Eaglecrest a license. She said however she could "not vote for it" due to technicalities in the current law.
Additionally, the House passed Senate Bill 75, which reduces the age of Alaskans eligible for a commercial drivers license from 19 to 18 years old.
House Bill 139 also passed. It grants an exemption from the state procurement code for the acquisition of investment-related services for assets managed by the Board of Trustees of the Alaska Permanent Fund Corporation.
The so-called "tele-health" bill, or House Bill 44, passed on a 35-1 vote. Rep. Chris Tuck voted "nay."