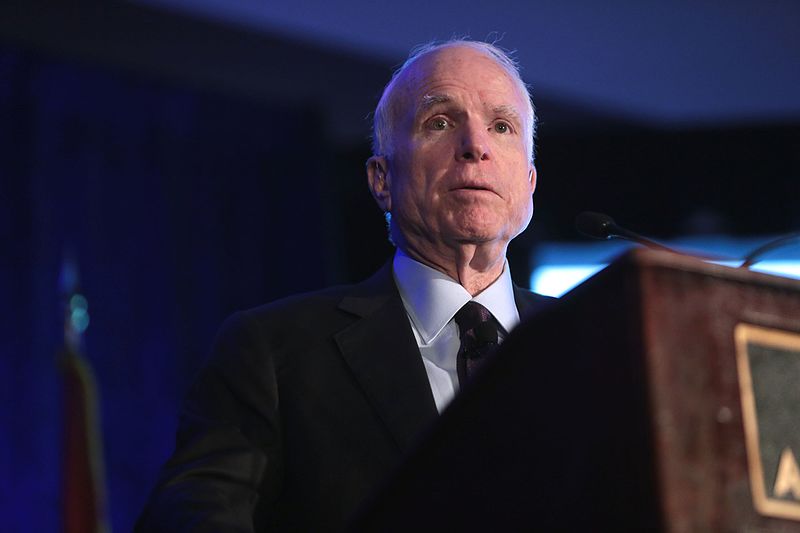 U.S. Senator John McCain speaking at the 2016 Arizona Manufacturing Summit at the Arizona Biltmore in Phoenix, Arizona. Photo by Gage Skidmore courtesy of Wikimedia Commons.
Juneau, AK (KINY) - The celebration of Senator John McCain's life enters a second day today with a church service and a military salute.
On Wednesday, hundreds waited in line, some for hours, to pay their respects to the late senator.
Amon Rutherford from Anchorage, Alaska was among those at the public viewing.
"I wasn't always about his policies, but I loved the man. I think he brought a unity and a change. He died a great man."
It was also made known that McCain's Vice President running mate Sarah Palin had not been invited to the funeral proceedings. A member of NBC News reported this on Wednesday on Twitter.
Palin family source says, "Out of respect to Senator McCain and his family we have nothing to add at this point. The Palin family will always cherish their friendship with the McCains and hold those memories dear."

— Kelly O'Donnell (@KellyO) August 29, 2018
Alaska US Senator Dan Sullivan paid tribute to McCain on the Senate floor.
"Senator John McCain's passing represents not only an incalculable loss to his family, his dear wife Cindy, his friends, and a legion of admirers across the world, but to his colleagues here in the US Senate, Democrats, Republicans, and to the Institution of the Senate itself where he served as a model of honor and integrity and character for 31 years."