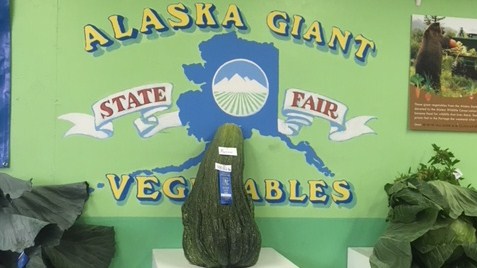 Juneau, AK (KINY) - The Alaska State Fair brought people from all over the state and beyond to enjoy a week's celebration of what it means to be Alaskan.
Ben Brown is with the Juneau Arts and Humanities Council and volunteered to help run the Juneau booth at the fair that is put on by the Alaska Committee, the Juneau Chamber of Commerce, and by Travel Juneau. His job there was to show off why Juneau was great and why it makes an excellent state capital. He also told us all about how the State Fair came to be as he was well-versed in the history.
"It is the oldest state fair in the state and it far predates statehood. It was founded in 1936 during the colonial period, so the folks that moved up here from Minnesota and Wisconsin and such during the Great Depression started a farming colony in the Mat-Su decided that they wanted to have a fair to celebrate all of their agricultural products and it has been going ever since."
Not long after WWII, the fair was asked to be representative of the entire state.
"In 1956, the folks here in Palmer petitioned the territorial legislature to have the fair designated as the territorial fair. When we became a state in 1959, it became that Alaska State Fair."
We asked Brown about the real value that the State Fair holds.
"Alaska's metropolis is Anchorage (although it is soon becoming Palmer and Wasilla) and this fair is important because for about a twelve day period at the end of every summer a lot of people get together. Politicians like to come here and talk to people. People sell things. There's also a draw for those that want to have fun, eat cotton candy, and ride the Ferris wheel."
"It's a moment in time where people get together to have a good time and experience being Alaskan."
One issue that often comes up in statewide conversations is the isolation of Juneau and it's distance from other parts of the state, which makes some groups question why the capital lies here. Brown had some commentary on why Juneau should stay the capital of Alaska and why it is still accessible during legislative sessions.
"Often people say that is hard to participate in state government because of how far away the capital is. I have been doing this for a few years (I was born in Anchorage, went to High School in Palmer, and I have lived in Juneau since 2001) and I see it from multiple perspectives. Wherever the capital is in Alaska, it is going to be thousands of miles from somewhere else because we are such a huge state."
"We have to take advantage of the technology that exists in 2018 and realize that you do not have to be in a room somewhere to affect what is happening in that room."
One program that has enabled further connection between citizens and the legislative process is Gavel Alaska, which streams almost every session online. Being always on camera also increases the accountability of legislators.
"I remember when Gavel Alaska was first introduced and some of the legislators were not excited about it. Now they show up with their teeth brushed and their ties straight and they are ready to be on camera because they know that the people of Alaska are watching them as they conduct the people's business."
We would also like to thank Brown for taking the time to make the report on the State Fair and sending us photos. More information can be found on the official website.