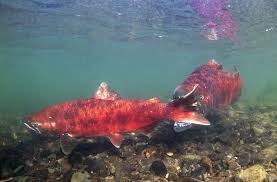 Wild Alaskan salmon
Juneau, Alaska (KINY) A no go for genetic salmon in Alaska.
The Alaska senate in a rare unanimous vote, 19-0 voted to send a resolution opposing genetic salmon production to congress.
Senator Cathy Giessel said they are unsure of the health risks of this this new source of Salmon, "We don't know the health impacts of eating genetically engineered salmon. We know for sure that our Alaska wild salmon has a positive affect on health."
She said the product should be properly labeled so consumers are not fooled in the stores, "Without proper labels, consumers may purchase this genetically engineered salmon not knowing its not our wonderful wild Alaska salmon."
Giessel added that in the future the genetically developed salmon could impact Alaskan salmon populations and habitats, "There is concern about the GED salmon infesting and tainting our wild stocks. We don't know if that can happen. The general thought is the genetically created salmon can not reproduce but we don't know that for sure."