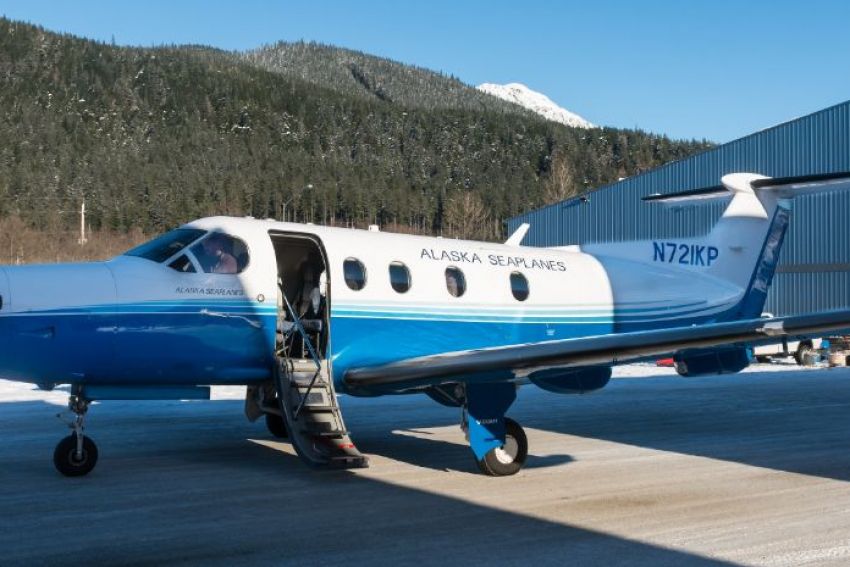 An Alaska Seaplanes Pilatus PC-12.
Juneau, Alaska (KINY) - Juneau-based commuter airline Alaska Seaplanes will be resuming regular flights between the sister cities of Juneau, Alaska and Whitehorse, Yukon Territory, Canada on Friday, April 26.
The service will be conducted with a Pilatus PC-12, the newest addition to the Alaska Seaplanes fleet. The pressurized Pilatus seats nine, can fly at over 300 mph, and makes the trip in approximately 50 minutes.
"It's so fast, you actually get back to Juneau before you left Whitehorse," said general manager Carl Ramseth, noting the time change.
Ground handling at Eric Nielsen Whitehorse International Airport will be conducted by Air North.
"We're very grateful for the partnership that's developed between Alaska Seaplanes and Air North, offering American travelers access to the interior on Air North's flights fanning out across Canada, including Dawson City among other destinations. Canadians will now be able to easily access Alaska's breathtaking capital city, and the wonders of Southeast Alaska from majestic glaciers to some of the best sportfishing in the world, via Seaplanes' extensive route network," added Ramseth.
Whitehorse is also served weekly on Sundays, starting June 2, by Condor Airlines with direct service to Frankfurt, Germany.