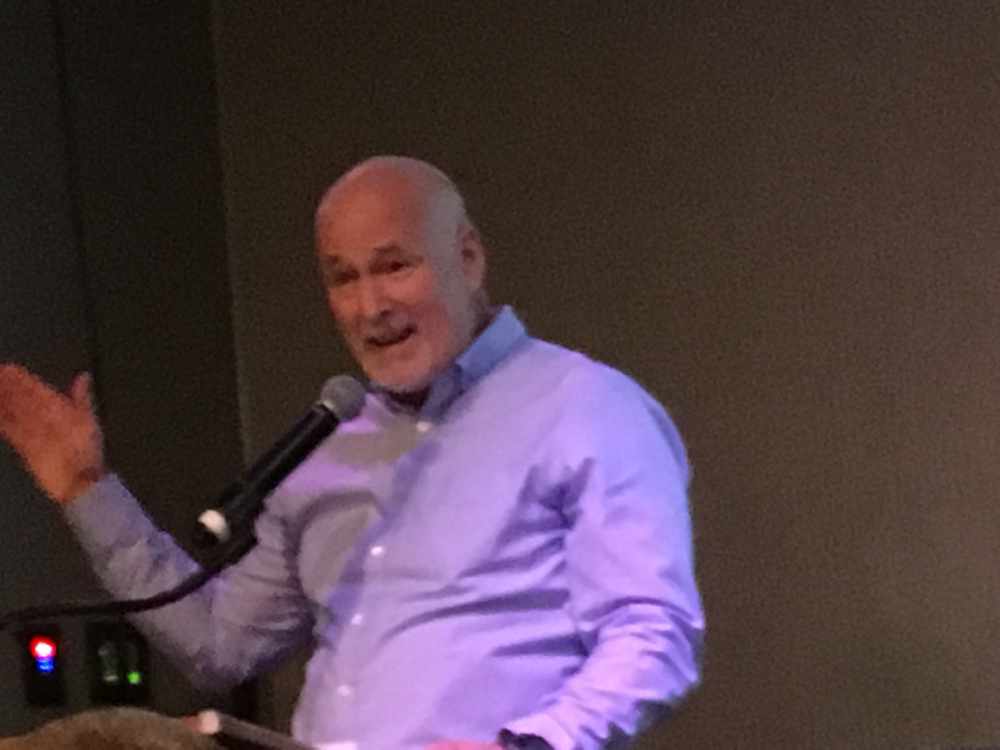 Kevin Anderson
Juneau, Alaska (KINY) - The nuts and bolts of a key part of Juneau's economy was explained to business leaders.
Kevin Anderson President and Jake Maenpa, Vice President of Sales, of Alaska Marine Lines gave a presentation to the Alaska Business Roundtable luncheon.
Anderson said Alaska is built on relationships. He meant many people come here without their extended family. "My best friends in the world are people we met and our neighbors in Alaska."
He began his career in Alaska in 1982. He moved up from sales to port manager, Vice President and in 2008 became President. "We have an incredible group of young people. I used to worry about succession planning. I'm not worried in the least bit. Our millennials are smart, they are dedicated and they do a great job for us."
Anderson said the company has been working to diversify over the past 20 years. Seafood is the big product they transport, mostly pink salmon. "Without southbound fish, we are not profitable." He recalled a shortage of pink salmon in 1987 and 1988. It was a scary time as the company lost money.
"The peaks and valleys of the fishing industry are hard to predict, forecasts are good but not that good. You have to prepare every year that it will be a record year. Many times we will end up with a couple of thousand containers hauled up here that aren't used."
They have worked to add trips to Prince William Sound and western Alaska. They have a strong sockeye salmon season last year. They have strong runs of pinks and sockeyes in Bristol Bay. Pollock is another major item they transport. They are also working to expand in Kodiak.
Anderson praised the ownership group for the support they show Alaska and its communities.
Maenpa talked about the history of the company, the Lynden Family of Companies. Ed Austin began the company in 1906 with horses and wagons moving cargo around Bellingham, Washington. Hank Jansen purchased the company in 1947 just seven years after being hired as a driver. He got the contract to bring mail to Alaska.
Alaska Marine Lines began in 1980. They purchased Southeast Barge Lines and changed the name to Southeast Alaska barge line and then Alaska Marine Lines in 1982. In 1985 they began service to seven communities in southeast Alaska. In 1989 they began twice per week service in southeast Alaska.
They serve Skagway, Haines, Hoonah, Juneau, Sitka, Kake, Petersburg, Wrangell, Thorne Bay, Craig, Ketchikan and Metlakatla.
The company has not had a recordable accident since 2009. They have gone 3.3 million miles between 2010-2018. Safety is the top priority.
Six operating companies include Alaska Marine Lines, Alaska Marine Trucking, Lynden Transport, Dunlap Towing company, Western Towboat Company and Arrowhead Transfer Inc. They have nearly 500 employees and operate 15 offices and warehouses.
They work out of 15 barge landings and operate four major maintenance and repair shops in Sitka, Ketchikan, Juneau and Seattle.
They have 120 forklifts, 75 ramps and gensets, and 400 tractors, trucks, trailers and chassis operating in southeast Alaska. They also operate five barges in rotation on the main line. It takes 4.4 million gallons of fuel per year to operate.
It takes 2,700 refrigerators and 5,000 containers, and flats to operate each year.
The cost of a forklift tire is $6,000. A delivery truck with lift gate costs $45,000. A tractor costs $120,000. One round trip barge to SE Alaska costs $500,000. A barge ramp costs $1 million. A barge costs $14 million.
They also developed a phone app to help view shipments, keep track of them, and provide additional customer service.
Lynden has donated over $1.5 million to various communities in Alaska in the past year.
Anderson said the timber industry demise has had a huge impact on the company. "It was devastating and it was unbelievable. Its amazing to me how those communities have survived and kept going without it."
Besides fish, they also ship beer and mining products.
Alaska Seaplanes will resume three flights per week to Whitehorse next week. A community-wide cleanup is scheduled for Saturday.
Over 40 wines will be available at the wine tasting at the Juneau Arts & Humanities Council on Saturday at 6 pm. Tickets are $30 single and $50 for a pair. Tickets can be purchased at the JACC or by calling 586-2787.