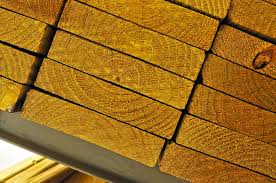 Juneau, Alaska (KINY) - The Alaska Division of Forestry and Fire Protection is developing a new program to increase the use of Alaskan wood by allowing local sawmill operators to self-certify their lumber.
Local Use Lumber is a concept that promotes locally produced dimensional lumber to be used in some residential construction, usually single and double-family houses.
Current residential building codes such as the 2018 International Residential Code requires that lumber be graded into quality categories by one of the six associations that publish grading rules for softwood dimensional lumber, to ensure that dimensional lumber can withstand the stresses of loadbearing parts of a structure.
To meet current building codes, According to the Division of Forestry, Alaska imports about $20 million annually in wood products from Canada, much of that in dimensional lumber.
The financial and social cost of sourcing outside lumber has continued to rise. The Division cites a finding from the Alaska Housing and Finance Corporation, which said that new building permits fell by 15% in the last year because of high lumber prices.
According to the National Association of Home Builders. lumber prices increase single family home construction by as much as $36,000. Tanana Chiefs Conference reports that an eight-foot 2X4 can cost as much as $30.00 in remote Alaskan communities
Seven other states have Local Use Lumber laws or regulations. The Alaska concept is a voluntary program with the State creating regulations, and municipalities that determine building codes able to opt in to allow the use of local lumber.
A stakeholder meeting on Sept. 23 with home builders, house inspectors, the home financing industry, mill operators, and municipal code enforcement officers will kick off the process and help the State identify any issues. It usually takes about 1.5 years to finalize regulations; without any challenges the program could be developed in as little as a year.
The Division is inviting the public to attend the Board of Forestry meeting on Oct. 20 to hear more about the Local Use Lumber proposal.